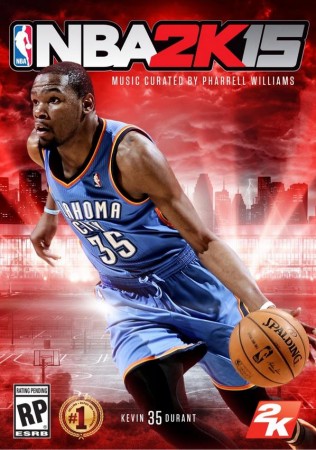 2K Sports' NBA 2K15 will be better that its 2013 counterpart, NBA 2K14 in many aspects. The game has already released its Kevin Durant cover and has confirmed that singer and producer, Pharrell Williams will be working on its music. Now a new video outed by a YouTube user, DmanUnt revealed confirmed gameplay improvements that have been made to NBA 2K15.
While playing My Team in NBA 2K14, players in order to evade the rivals, go zigzag on the court. This according to the YouTube user is flawed because the defense is too slow and player will not be able to react on defense. But this issue has been fixed in NBA 2K15.
This will mean players will have to have a better understanding of the game to get their shots right and to score better.
Though in NBA very less wide open shots are made, it has been an issue that has been complained about by many players so in NBA 2K15, players will not be missing these. In the new game, players can expect an easy three points if you have a wide open court.
The other issue is the combination of the off ball defense and the 1-3-1 zone. Though the 1-3-1 zone can be easily beaten, it however will leave the corners open and all the players will be able to do a horns run. When combined with the off ball defense and the recovery speed, the game was simply over powered and now it has been solved in this upcoming game.
This issue makes the open attack easier and 2K might address this issue by increasing the size of the court and probably by decreasing the close-out speed.
Signature skills that is overpowering from the previous video game are - Posterizing skills and Active Hands. So this issue might also be fixed in NBA 2K15.
(YouTube Courtesy: DmanUnt2014)
25 Euroleague Teams Inclusion Announced
2K Sports in collaboration with Euroleague Basketball has announced the inclusion of new playable teams and players.
There will be 11 teams from the Turkish Airlines Euroleague, FC Bayern Munich of Germany, JSF Nanterre of France, Galatasaray Liv Hospital Istanbul of Turkey and Partizan NIS Belgrade of Serbia.
Below is the list of all the 25 teams that will be included in NBA 2K15 (NBA2KORG):
Alba Berlin
Anadolu Efes Istanbul
Brose Baskets Bamberg
Budivelnik Kiev NEW
Crvena Zvezda Telekom Belgrade
CSKA Moscow
EA7 Emporio Armani Milan
FC Barcelona
FC Bayern Munich
Fenerbahçe Ulker Istanbul
Galatasaray Liv Hospital Istanbul
JSF Nanterre
Laboral Kutxa Vitoria
Lietuvos Rytas Vilnius
Lokomotiv Kuban Krasnodar
Maccabi Electra Tel Aviv
Montepaschi Siena
Olympiacos Piraeus
Panathinaikos Athens
Partizan NIS Belgrade
Real Madrid
Stelmet Zielona Gora
Strasbourg NEW
Unicaja Malaga
Zalgiris Kaunas