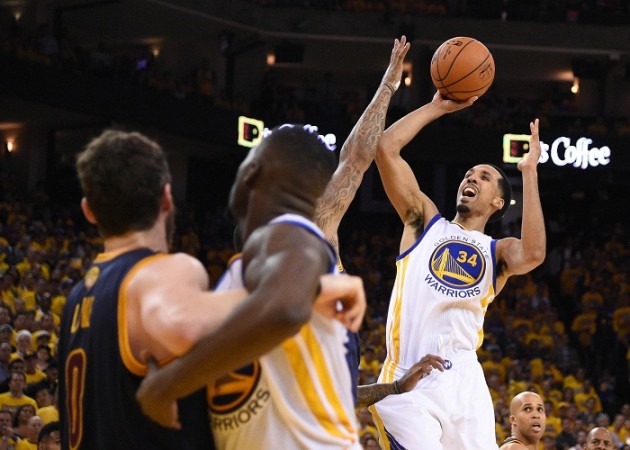 The Golden State Warriors have taken an important 1-0 lead in the best-of-seven-series NBA Finals, defeating the Cleveland Cavaliers 104-89. Right from the outset, the Warriors looked in great form, playing consistent basketball to emerge victorious in Game 1.
However, this was not a typical Warriors' performance, where Stephen Curry and Klay Thompson dominates proceedings with their sharp shooting, and score more than 20 points respectively. Curry and Thompson, who were incredible in the last three games against the Oklahoma City Thunder, only scored 11 and nine points respectively.
But, what makes this Warriors team great is their ability to pick up wins, and it was their bench players, who come to the party when required. Shaun Livingston looked in sublime form, scoring 20 points to help the Warriors win. Andre Iguodala added 12 points.
Warriors coach Steve Kerr was extremely pleased with his team, as it showed that they are capable of beating the best of the best without Curry and Thompson shining.
"We've talked about our depth for the last two years. We rely on a lot of people. We play a lot of people, and we feel like we have a lot of talent on the bench that can come in and score when we need it," nba.com quoted Kerr as saying.
"So it's a great sign, obviously, that we can win in the finals without those two guys having big games, but it's not really that surprising to us. This has been our team the last couple of years."
The big guns of Cleveland Cavaliers, including LeBron James, Kevin love and Kyrie Irving enjoyed a good outing, scoring 23 points, 17 and 26 respectively. However, it did not prove to be enough as Warriors, overall, outscored them.
The Cavaliers might have come with their plans against Curry and Thompson, but they were not ready for their bench to take over. Cavaliers coach Tyronn Lue was taken aback by a strong showing from the Warriors bench.
"I thought our guys did a great job of locking into those guys. Their bench played well. So we've got to go back to the drawing board and try to figure out how to take those guys out of the game," Cavs coach Tyronn Lue said.
However, there are six more games to go in the NBA Finals, and the Cavaliers can still win the series, but they have to come up with a better plan, as one cannot keep the Splash brothers quiet for long.
Game 2 of the NBA Final is scheduled for Sunday.