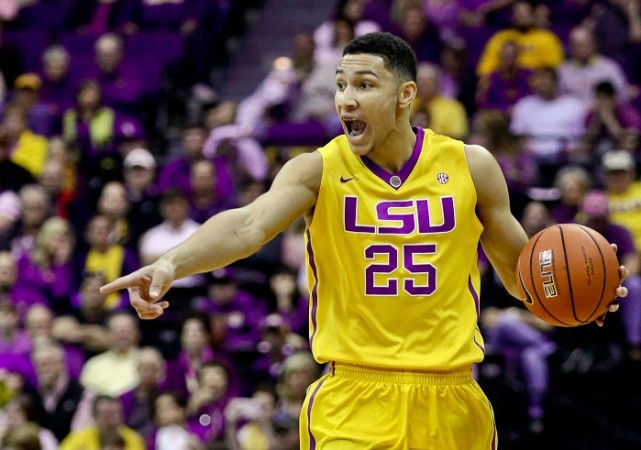 It has not been long since Cleveland Cavaliers scripted a brilliant comeback to win the NBA Finals on Sunday, and the 2016 Draft is already here. Franchises, as always, will come with their homework well done, with the hope of getting some potential future stars in Brooklyn on Thursday.
However, it is Philadelphia 76ers, who have huge chances to sign a good prospect, and the team have set their eyes on LSU's Benn Simmons as their first pick. The Aussie is said to possess some incredible skills including speed and power. Philadelphia are lucky to have the first choice in picking a player.
Established stars like LeBron James and Andrew Bogut have already sung praise for Simmons, who has all the ammunitions to become a top-class star.
Los Angeles Lakers and Boston Celtics were below par last season, and the two will pick second and third respectively. They need to make most of the picks, and Lakers seem to have shown some good interest in Brandon Ingram, who could play an important role, after their poor performance last season.
With Celtics enjoying eight different picks in the draft, they can get some really talented players from the pool. The Celtics could move for forward Jaylen Brown in the third pick, as he can strengthen their defence to a large extent, but they could opt for someone else. But they need to make a smart choice when they get to pick.
Phoenix Suns, Minnesota Timberwolves, New Orleans Pelicans, Denver Nuggets, Sacramento Kings, Toronto Raptors and Milwaukee Bucks are in a good position as they fall in the top 10 picks. However, that does not mean other teams like Orlando Magic, Utah Jazz after the 10th pick will get a poor player. Such teams will be clever, and get that player, who can add quality depth in the squad.
And with players like Kris Dunn, Jamal Murray, Domantas Sabonis, Furkan Kormaz and others in the fray, an interesting NBA 2016 draft is expected to take place.
Such drafts always make it interesting for the fans, who brag about their pick being better. Fans may be able to do so, justifying their stance with their picks' skills in YouTube, but one has to remember NBA is a different platform, and need to be on top of their game to make an impression.
Round 1 Order
1. Philadelphia 76ers
2. Los Angeles Lakers
3. Boston Celtics (From Brooklyn)
4. Phoenix Suns
5. Minnesota Timberwolves
6. New Orleans Pelicans
7. Denver Nuggets (From New York)
8. Sacramento Kings
9. Toronto Raptors (From Denver via New York)
10. Milwaukee Bucks
11. Orlando Magic
12. Utah Jazz
13. Phoenix Suns (From Washington)
14. Chicago Bulls
15. Denver Nuggets (From Houston)
16. Boston Celtics (From Dallas)
17. Memphis Grizzlies
18. Detroit Pistons
19. Denver Nuggets (From Portland)
20. Indiana Pacers
21. Atlanta Hawks
22. Charlotte Hornets
23. Boston Celtics
24. Philadelphia 76ers (From Miami via Cleveland)
25. Los Angeles Clippers
26. Philadelphia 76ers (From Oklahoma City via Denver and Cleveland)
27. Toronto Raptors
28. Phoenix Suns (From Cleveland via Boston)
29. San Antonio Spurs
30. Golden State Warriors
Round 2
31. Boston (From Philadelphia via Miami)
32. Los Angeles Lakers
33. Los Angeles Clippers (From Brooklyn)
34. Phoenix
35. Boston (From Minnesota via Phoenix)
36. Milwaukee (From New Orleans via Sacramento)
37. Houston (From New York via Sacramento and Portland)
38. Milwaukee
39. New Orleans (From Denver via Philadelphia)
40. New Orleans (From Sacramento)
41. Orlando
42. Utah
43. Houston
44. Atlanta (From Washington)
45. Boston (From Memphis via Dallas)
46. Dallas
47. Orlando (From Chicago)
48. Chicago (From Portland via Cleveland)
49. Detroit
50. Indiana
51. Boston (From Miami)
52. Utah (From Boston via Memphis)
53. Denver (From Charlotte via Oklahoma City)
54. Atlanta
55. Brooklyn (From Los Angeles Clippers)
56. Denver (From Oklahoma City)
57. Memphis (From Toronto)
58. Boston (From Cleveland)
59. Sacramento (From San Antonio)
60. Utah (From Golden State)
Where to watch live
The NBA 2016 draft is scheduled to start 7 p.m local time (4:30a.m IST)
US viewers can watch the draft live on ESPN with live streaming on Watch ESPN.