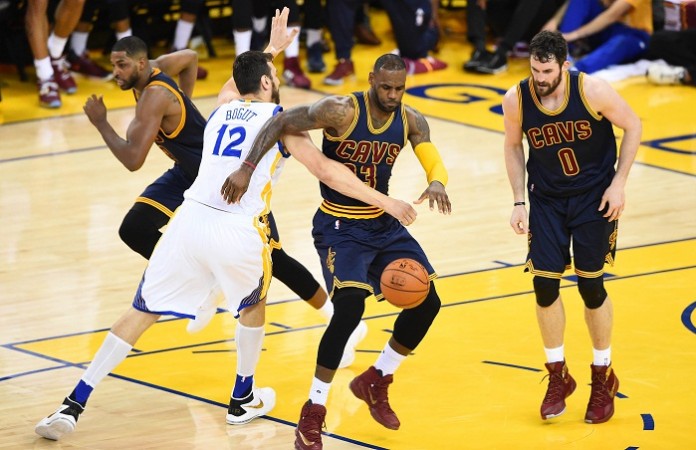 After a gruelling wait for the NBA 2016-17 season, the league is finally here and we are just a few days way from the first match of the competition. NBA champions Cleveland Cavaliers are set to host New York Knicks at Quick Loans Arena on Tuesday, which is sure to get the ball rolling.
Though LeBron James and co will hope to start the NBA season in a grand manner, all eyes will be elsewhere as champion side Golden State Warriors are set to face San Antonio Spurs in what is expected to be a thrilling encounter later on Tuesday night. They were two of the best teams in the league stage last year, but neither failed to win the title, which was eventually won by Cavaliers.
The race for the NBA title is going to be tough, and teams, which are consistent, will have a greater chance of winning the title.
In the eastern conference, teams like Cavaliers, Chicago Bulls and Atlanta Hawks are going to be strong competitors, while Warriors, Spurs and LA Clippers are going to be teams to watch in the West.
Though these teams are expected to be on top of the carts in their respective divisions, one should also keep a close eye on some of the other teams in the competition.
Teams like LA Lakers, Phoenix Suns, Minnesota Timberwolves, New Jersey Nets, New York Knicks, who failed to shine last season, will hope to deliver the goods this season, and spring in a few surprises. All the teams in the competition have made some changes in their respective teams, which makes the start to the season all the more interesting.
Here is a look at the fixtures for the first seven days of the NBA 2016-17.
October 25, 2016
| | | | |
| --- | --- | --- | --- |
| New York Knicks | Cleveland Cavaliers | 8:00 pm ET (5:30 am IST, next day) | @ Quicken Loans Arena |
| Utah Jazz | Portland Trailblazers | 10:00 pm ET (7:30 am IST) | @ Moda Center |
| San Antonio Spurs | Golden State Warriors | 10:30 pm ET (8 am IST) | @ ORACLE Arena |
October 26, 2016
| | | | |
| --- | --- | --- | --- |
| Miami Heat | Orlando Magic | 7:00 pm (4:30 am IST) | @ Amway Center |
| Dallas Mavericks | Indiana Pacers | 7:00 pm (4:30 am IST) | @ Bankers Life Fieldhouse |
| Detroit Pistons | Toronto Raptors | 7:30 pm (5 am IST) | @ Air Canada Centre |
| Brooklyn Nets | Boston Celtics | 7:30 pm (5 am IST) | @ TD Garden |
| Minnesota Timberwolves | Memphis Grizzlies | 8:00 pm (5:30 am IST) | @ FedExForum |
| Charlotte Hornets | Milwaukee Bucks | 8:00 pm (5:30 am IST) | @ BMO Harris Bradley Center |
| Denver Nuggets | New Orleans Pelicans | 8:00 pm (5:30 am IST) | @ Smoothie King Center |
| Oklahoma City Thunder | Philadelphia 76ers | 8:00 pm (5:30 am IST) | @ Wells Fargo Center |
| Sacramento Kings | Phoenix Suns | 10:00 pm (7:30 am IST) | @ Talking Stick Resort Arena |
| Houston Rockets | L.A. Lakers | 10:30 pm (8 am IST) | @ STAPLES Center |
October 27, 2016
| | | | |
| --- | --- | --- | --- |
| Washington | Atlanta | 7:30 pm (5 am IST) | @ Philips Arena |
| Boston | Chicago | 8:00 pm (5:30 am IST) | @ United Center |
| San Antonio | Sacramento | 10:30 pm (8 am IST) | @ Sleep Train Arena |
| L.A. Clippers | Portland | 10:30 pm (8 am IST) | @ Moda Center |
October 28, 2016
| | | | |
| --- | --- | --- | --- |
| Cleveland | Toronto | 7:00 pm (4:30 am IST) | @ Air Canada Centre |
| Orlando | Detroit | 7:30 pm (5 am IST) | @ The Palace of Auburn Hills |
| Indiana | Brooklyn | 7:30 pm (5 am IST) | @ Barclays Center |
| Phoenix | Oklahoma City | 8:00 pm (5:30 am IST) | @ Chesapeake Energy Arena |
| Charlotte | Miami | 8:00 pm (5:30 am IST) | @ AmericanAirlines Arena |
| Houston | Dallas | 8:30 pm (6 am IST) | @ American Airlines Center |
| L.A. Lakers | Utah | 9:00 pm (6:30 am IST) | @ Vivint Smart Home Arena |
| Golden St. | New Orleans | 9:30 pm (7 am IST) | @ Smoothie King Center |
October 29, 2016
| | | | |
| --- | --- | --- | --- |
| Atlanta Hawks | Philadelphia | 12:30 pm (10 pm IST) | @ Wells Fargo Center |
| Boston Celtics | Charlotte | 7:00 pm (4:30 am IST | @ Time Warner Cable Arena |
| Memphis | New York | 7:30 pm (5 am IST) | @ Madison Square Garden |
| Orlando Magic | Cleveland | 7:30 pm (5 am IST) | @ Quicken Loans Arena |
| Indiana | Chicago | 8:00 pm (5:30 am IST) | @ United Center |
| Brooklyn | Milwaukee | 8:00 pm (5:30 am IST) | @ BMO Harris Bradley Center |
| New Orleans | San Antonio | 8:00 pm (5:30 am IST) | @ AT&T Center |
| Portland | Denver | 9:00 pm (6:30 am IST) | @ Pepsi Center |
| Minnesota | Sacramento | 10:30 pm (8 am IST) | @ Sleep Train Arena |
October 30, 2016
| | | | |
| --- | --- | --- | --- |
| Utah Jazz | L.A. Clippers | 4:30 pm (2 am IST) | @ STAPLES Center |
| Golden St. | Phoenix | 6:00 pm (3:30 am IST) | @ Talking Stick Resort Arena |
| Milwaukee | Detroit | 6:00 pm (3:30 am IST) | @ The Palace of Auburn Hills |
| San Antonio | Miami | 6:00 pm (3:30 am IST) | @ AmericanAirlines Arena |
| L.A. Lakers | Oklahoma City | 7:00 pm (4:30 am IST) | @ Chesapeake Energy Arena |
| Washington | Memphis | 8:00 pm (5:30 am IST) | @ FedExForum |
| Dallas | Houston | 8:00 pm (5:30 am IST) | @ Toyota Center |
October 31, 2016
| | | | |
| --- | --- | --- | --- |
| Sacramento | Atlanta | 7:30 pm (5 am IST) | @ Philips Arena |
| Chicago | Brooklyn | 7:30 pm (5 am IST) | @ Barclays Center |
| Denver | Toronto | 7:30 pm (5 am IST) | @ Air Canada Centre |
| Phoenix | L.A. Clippers | 10:30 pm (8 am IST) | @ STAPLES Center |
TV Listings: India: Sony SIx. UK: BT Sport. US: NBA TV, ABC, ESPN, TNT