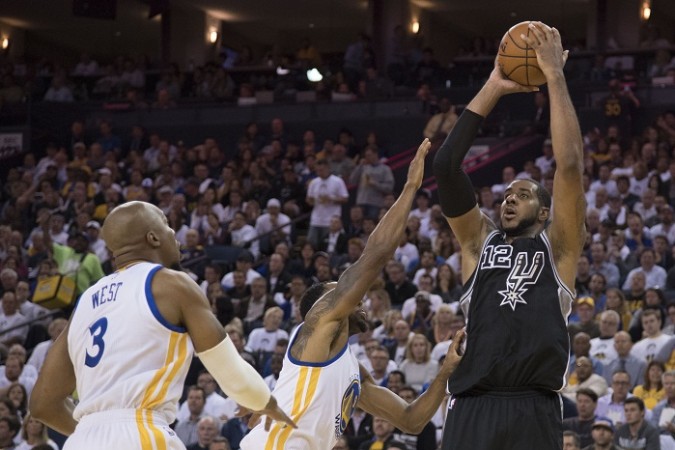 The opening night of NBA 2016-17 witnessed Cleveland Cavaliers emerge victorious, defeating New York Knicks, while the Golden State Warriors lost their first game against San Antonio Spurs on Tuesday.
Spurs were in brilliant form right from the first minute of the game. After taking an 11-point lead in the first quarter, there was no looking back for Spurs, who continued their dominance in all the four quarters, winning the match 129-100.
Their defence and offence were both superb, as they did not allow the Warriors players much chance to shine. Spurs were consistent as they score above 30 points in all the four quarters, which is amazing as we are just into the first match of the season.
Kawhi Leonard and LaMarcus Aldridge were in sparkling form, as they tore apart Warriors defence with their powerful game. Leonard finished the game with 35 points while Aldridge scored 26. Despite a good debut performance from Warriors' Kevin Durant, scoring 27 points and Stephen Curry with 26 points, they were not able to help their team script a win against the strong Spurs team.
Earlier Cleveland were brilliant in the first match of the season, defeating the Knicks by 29 points, with the score reading 117-88.
All the key stars of Cleveland dazzled on the opening night of the NBA as LeBron James top scored for their team with 25 points while Kevin Love looked sharp, scoring 24 points. They were supported well by players like Tristian Thompson and Kyrie Irving, as they scored 16 and 12 points respectively. It was a combined team effort, which helped Cavaliers defeat Knicks.
Besides the second quarter, it was Cavaliers, who outscored Knicks in all the other quarters, reflecting their dominance. However, for the Knicks, there were some encouraging signs in the loss as stars like Carmelo Anthony (19 points) and Derrick Rose (17) looked in decent form.