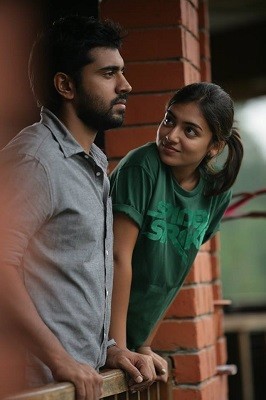 Kollywood's new sensation, Nazriya Nazim, has refuted reports about her alleged catfight with actress Nayanthara.
Earlier there were reports claiming that Nayanthara was apparently miffed with Nazriya for creating a controversy prior to the release of her film "Naiyaandi", starring Dhanush. Nazriya filed a complaint to the Chennai police commissioner alleging that the "Naiyaandi" team has used a body double to shoot an intimate scene, which she had declined to do, without her permission.
The pretty actress and her father were allowed a special screening of the film before its release. Nazriya withdrew her complaint after she was convinced there was no objectionable scene in the film. The "Naiyaandi" controversy allegedly did not go down well with many from the industry.
"Raja Rani" actress Nayanthara had apparently expressed her disapproval over Nazriya for stirring up a controversy. Later, some media reports claimed that Nazriya lashed out at Nayanthara for her comments.
But the actress, who became popular post the success of her film "Neram", has refuted such reports claiming them to be just rumours. She posted a message on her official Facebook account saying, "Rumors sometimes they make you laugh !!! Nazriya and Nayanthara issuing statements against each other. What's wrong with these people ? We are very good friends."
In a fitting reply to claims that filmmakers are not interested in working with her post the "Naiyaandi" controversy, Nazriya revealed about her complete film schedule on her social media page.
"This is how my schedule looks
'Ohm Shanthi Oshana' shoot has completed.
Now 'Vaymoodi Pesava' - with Dulquer shoot in progress
A Tamil movie with Jeeva , shoot progresses on 26 November
1st December - A Malayalam Movie with Fahad Fasil , directed by Anjali Menon
March 'Honeybee2' - Malayalam
After that, A Dhanush movie directed by Senthil
btw, that movie with Vijay was never offered to meJ," she said.