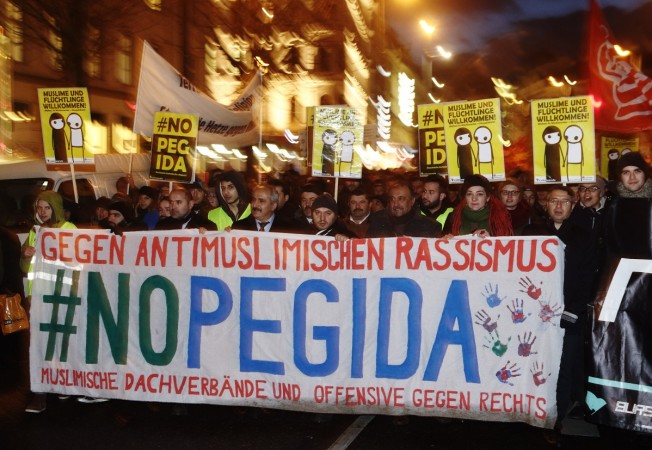 Member of the Patriotic Europeans Against the Islamisation of the West (PEGIDA) are said to have given "Nazi salutes" during a demonstration in Austria's capital Vienna on Monday evening. The reports have sparked widespread outrage against the group, especially since it was only recently, that a former leader of the party was called out for posting a picture of himself dressed like Hitler on Facebook.
Several hundred followers of the party are said to have attended the march in Austria, the first of its kind in the country, while thousands took part in anti-PEGIDA protests close by. According to some reports, a few mosques in the area were spray-painted with Swastikas on Sunday, says IBTimes UK.
In the Catholic-majority country, there are about half-a-million Muslims and the far-right Freedom Party, which is the most popular one in the country, seems to be in solidarity with PEGIDA and its ambitions of keeping the country free from "Islamisation".
Reportedly, the Austrian government might soon ban Muslim organisations run by foreign groups and stop the publication of standardised German translations of the Koran.
Austria, the birthplace of Hitler, is hostile to Jews as well, according to another set of reports that revealed that many people arrested for shouting anti-Semitic slogans in Vienna. In another attack against Jews of the area, a former German concentration camp at Mauthausen was sprayed with swastikas.
PEGIDA is facing a lot of flak, especially since a widely circulated picture of their co-founder Lutz Bachmann dressed up like Hitler had led to him resigning from the leadership post.