Nayantara and Vignesh Shivan's friendship seems to be causing a lot of trouble for the actress. A cosy photo of Nayantara and Vignesh Shivan has been leaked, causing embarrassment to the alleged couple.
Click here to see their Photos
The picture was leaked online when she was shooting for her upcoming Tamil film, "Thirunaal", which stars Jeeva in Kumbakonam, Tamil Nadu.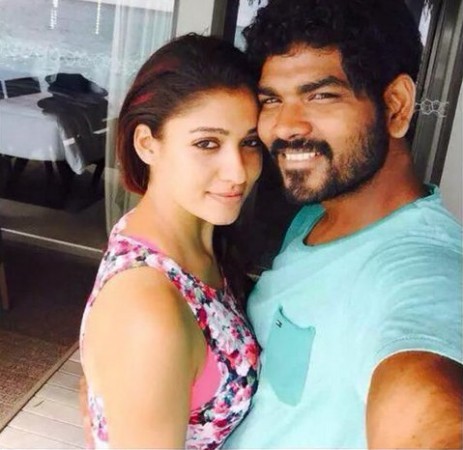 The actress was reportedly upset over the leak and called of the shooting as well. It is reported that angry Nayantara spent the whole day in her room. Even Vignesh Shivan's attempt to calm her down did not help much as she was in no mood to listen.
It is said that Nayantara had the picture as her Whatsapp profile photo. The photo was taken in Mauritius.
Apart from this, recently, there were reports that the duo were in love and this had forced the director to clarify things on Twitter.
Rumour also has it that the couple is already engaged.
The families of the couple are aware of their relationship but no one from the industry knows about the same, reports The Times of India. They are expected to open up about the same during the audio launch function of their film, "Naanum Rowdydhaan".
Earlier, there were strong rumours of Vignesh Shivan dating Nayantara. But he had denied it, tweeting, "Marriage rumors r insane n NOT TRUE!!! such false rumours sabotage the work flow n disturbs personally too! Request the media to relax pls." However, he is yet to respond on the photo leak.
Nayantara was earlier dating Simbu and was also on the verge of getting married to Prabhu Deva. Both the relationships, however, failed to work.