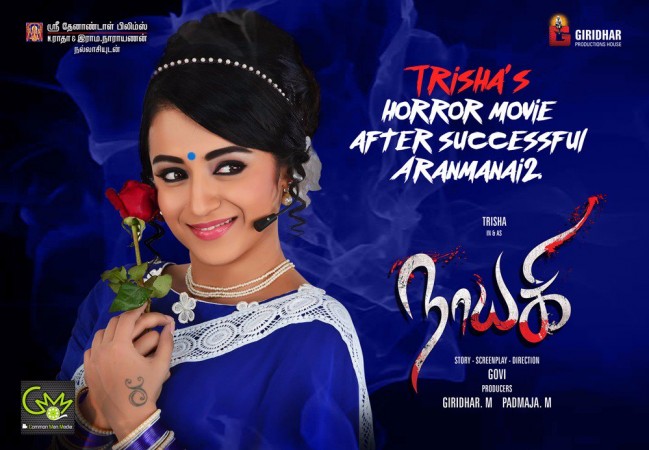 Trisha Krishnan's much-delayed "Nayagi" ("Nayaki" in Telugu) is a horror-comedy movie, which has been written and directed by Goverdhan Reddy aka Govi. The bilingual movie has been jointly bankrolled by Giridhar Mamidipally and Padmaja Mamidipally. While the Tollywood version of the film was released in August, the Tamil version is seeing the light of the day in theatres on Friday (Sept. 16) evening.
"Nayagi" stars Trisha and Ganesh Venkatraman in the lead roles, and Satyam Rajesh, Sushma Raj, Jayaprakash, Manobala, Kovai Sarala, Brahmanandam and others as supporting cast. The film features cinematography by Jagadeesh Cheekati and editing by Gautham Raju. Raghu Kunche has composed the songs, while Sai Karthik has scored the background music for the film.
Like in almost every Indian horror movie, the main story is set in a haunted house. Situations make a young unmarried couple (Satyam Rajesh and Sushma Raj) take shelter in a bungalow at a deserted place. They soon realise that the place is possessed by the spirit of Nayagi (Trisha), who has a history of killing men. What follows next is the interesting part of the story.
The Telugu version of the film had failed to impress the audience, making the film bomb at the box office. It has to be seen how the Tamil audience will receive the film.
Reviews:
Here, we bring to you the viewers' response to the film:
Arun Kumar: #NAYAGI - Nice Cinematography by Jagdish Terrific bgm by Sai Karthik @kuncheraghu songs super esp ennaanatho song
#NAYAGI - Good performance by sathyam rajesh & @sushmaraj91 Sathyam Rajesh timing comedy Sendrayan also
#NAYAGI - @talk2ganesh looks smart & negative role la super Keep rocking
#NAYAGI - Sema performance by @trishtrashers Rocked in all frames Sema azhagu Thanks a lot @DirectorGovi 4 showing different Trisha
Kissh:#Nayagi if u want to c this movie.Pls remove ur brain nd knowledge nd thinking sense.apa kuda ithu ungala satisfaction panrathu doubt than.
Santoo: #Nayagi (@trishtrashers ) Thalaivi Trisha acting semaaaaaaaaaaaaa! Lady padayappaa!! ❤ #Onewomenshow A big thanks to @DirectorGovi
Kissh: #Nayagi seriously guys...pls don't go....very worst very bad very heckyy....it's completely terrible.. Sry @trishtrashers @DirectorGovi
Common Man Sathish: #Nayagi - Trisha dream is to become heroine. But, unfortunately she dies. Does her dream gets fulfilled forms crux of the stort
#Nayagi First half - Completely different horror movie. Trisha rocks in 1980's look