Nawazuddin Siddiqui's first girlfriend Sunita Rajwar has sent a legal notice to the actor, journalist Rituparna Chatterjee who helped him pen down his infamous memoir and the publishers of the book for allegedly disclosing personal details of her past relationship without her consent.
The actress has demanded an unconditional apology from Nawazuddin through media and social media platforms within 24 hours of the notice for causing mental harassment. She has also demanded Rs 2 crores in damages to be paid by all the parties mentioned in the notice. She added that the amount will be paid towards a charitable cause of fighting sexual exploitation of women working in entertainment and media industry.
According to the Mumbai Mirror, Sunita, in her notice, has also demanded that Nawaz should not use her name in any sort of publication from hereafter. While Nawaz later regreted and decided to withdraw his tell-all biography titled An Ordinary Life, Sunita Rajwar pointed out that the book is still in circulation and an irreversible damage has been inflicted on her.
Here are the excerpts from Sunita Rajwar's legal notice: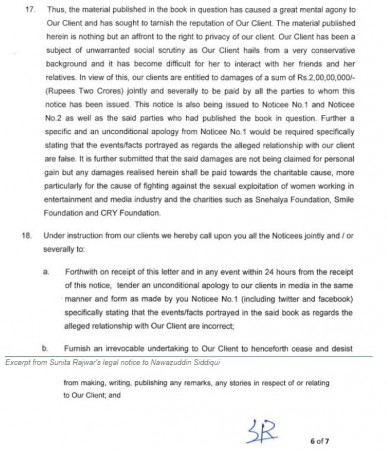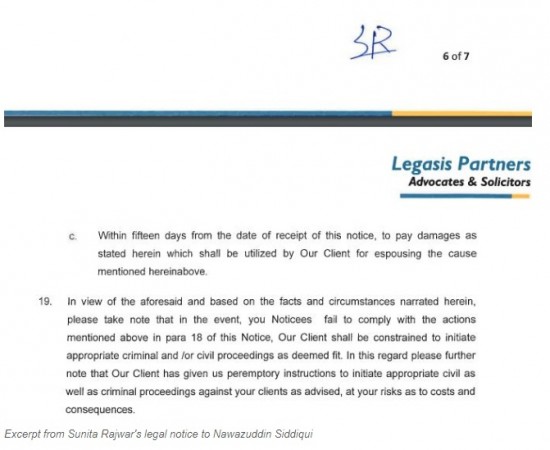 Nawazuddin Siddiqui's memoir An Ordinary Life created quite a buzz as it revealed details about his past relationships, one-night stands and extramarital affairs. But things backfired when his Miss Lovely co-star Niharika Singh and Sunita Rajwar rubbished the claims in the memoirs as "extraordinary lies."
"I am a married woman today. Yes, I was with Nawaz for a period of six-seven months. But how does that matter after so many years when he is a father of two kids and I am a married woman? How dare he write about me in his book without informing me? Surely I wouldn't have given him
permission to do this, but that does not mean that he has a right to write sh** about me. He has caused perhaps irreparable damage to my life," Rajwar said in an earlier interview.
In her long Facebook post, Sunita Rajwar said that the very first lie in Nawaz's memoir is the part where he had stated that they had not met each other in National School of Drama, New Delhi. She also said that Nawaz portrayed their relationship and break-up in a dramatic way, which is far from the truth.
On the other hand, a Delhi-based advocate named Gautam Gulati has filed a complaint with the National Commission for Women (NCW) against Nawaz for outraging the modesty of Niharika Singh.
The actress had accused Nawaz of fabricating stories and exploiting women just for the sake of selling his book.