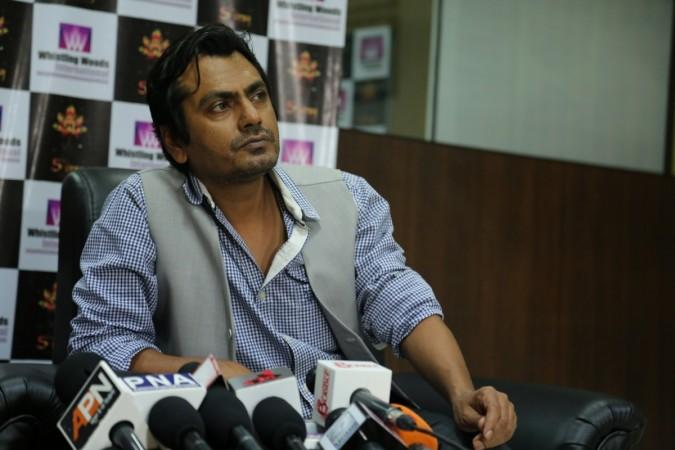 In an excerpt published by NDTV from Nawazuddin Siddiqui's autobiography 'An Ordinary Life', the actor reveals the following details:
(My first relation) was like rain after a spell of drought'

I was performing in a play in Mumbai which was when I finally had my first romantic relationship. Incidentally, she too happened to be an NSD graduate, though we had never met there. It was very sweet, like rain is after a very long spell of drought. Sunita had fallen madly in love with me. Every day, she would come over, hang out at my house in Mira Road and scrawl our names in tiny font all over the wall... Then she went off on a holiday to her hometown in the hills to see her folks. When she returned, Sunita would not take any of my calls. And when she did at last, I was flabbergasted. After such a deep, passionate love, she simply said, 'Nawaz, you focus on your career. And I will focus on my career.' She cut off all contact after that and I plunged into another deep, deep depression. I took a bucket of fresh white paint and began to replace her artwork on my walls with the blank canvas that they were before...
Living in Mira Road meant that the local train was our lifeline. We were at the station almost all the time. Soon after her call, one day I was at the station and stood there staring at the tracks. A train was coming, screaming its arrival with a lusty horn. It would be simple and instant. Should I jump onto the tracks and end it all? End this struggle, end this life? I had nothing. No love, no work, no money. But some being woke up in me and gave me a metaphorical slap. 'You know this is not your department,' the voice in my head said. 'Then why? Why did you go that way? Why!' it screamed at me.
The train sped away, screaming pompously, cutting through the air... I decided that I would never again be emotional in any relationship... Never again did I allow myself to be vulnerable like that again, not even with my wife... Yet it was important to analyse what had happened... [Sunita must have been advised] she should probably date someone successful, not a struggling, desperate actor who was out of work. Today, Sunita tells everybody that she was once together with me in a very serious relationship. Incredible, isn't it?
'What happens in New York stays in New York'

Those years between 2006 and 2010 were pretty incredible too. The industry had begun to notice me... Strangely, the West was kinder to me first, both in terms of love and work... I was at a cafe once with my friend in New York City's Soho area. The stunning waitress kept staring at me... 'You? You are an actor?' she asked a rhetorical question. 'Yes!' I replied. 'Which film of mine did you see? Gangs of Wasseypur? She squinted, trying to remember, 'No, no,' she said. 'Another film!' After a few moments, she responded: Lunchbox! We got talking and let's just say what happens in New York stays in New York...
'Why are you not mailing me, Nawaz?'

Before that came Suzanne: a lovely, dear Jewish girl from New Jersey, who lived in New York City. We met there and hit it off. She came to Mumbai and began to live with me... Every few months, she kept extending her visa... The shooting of Miss Lovely commenced. Suzanne used to accompany me there. Then came the day when her visa expired and she needed to return to New York to sort it out. She was gone for many months. One day, while we were shooting a dance scene, something happened to my co-star Niharika Singh... She was suddenly cold, went out of her way to maintain a distance from me and began to keep mum. I was puzzled... She used to be friendly, social and talk quite a bit. I thought it was best to ask her what had happened and so I did, not once, not twice, but several times, for several days... I invited her over for a home-cooked meal, a mutton dish which was my speciality. She politely agreed and came over... Not only did she eat everything that was on her plate, but she praised it as well.
Now you come to my house, Nawaz. I will cook mutton for you,' she said warmly. For the very first time I went to Niharika's house... When she opened the door, revealing a glimpse of the house, I was speechless with amazement. A hundred, or so it seemed, little candles flickered beautifully. She wore soft faux fur, looking devastatingly gorgeous, her beauty illuminated even more in the candlelight. And I, being the lusty village bumpkin that I am, scooped her up in my arms and headed straight for the bedroom. We made passionate love. And just like that, out of the blue, I began a relationship with Niharika Singh, a relationship which I did not know then would last for almost one and a half years...
Meantime, emails from Suzanne started coming. 'Why are you not mailing me, Nawaz? What's wrong?' I did not respond... I trusted my silence would convey what needed to be conveyed. When I was checking my inbox one day, Niharika happened to see one of her emails. 'Who is this?' she inquired. 'You know very well who it is,' I said. 'It's Suzanne.' 'Wo-ow! It's still going on between you two! Amazing!' Niharika thundered in anger. 'It is wrong. I hope you know that...'
From that day, Niharika began to send emails to Suzanne from my email address. She would type, 'I cannot continue with you ...' and sign off as me. Imagine the shock for Suzanne. She would send heartbreaking replies... After a few of these email exchanges, Suzanne figured that this was not my voice at all. 'Who is this writing, Nawaz? I know this is not you... Who is she? Who is this b***h?' 'B***h!' That word infuriated Niharika so much that she made me end all correspondence with Suzanne forever... I was very sad. Then I thought, so be it, it's all right, I am with Niharika. My melancholy evaporated quickly.
'I was a rascal who cared only for himself'

Niharika was an intelligent girl. Being an actor herself meant that she knew and understood my struggle for work... She would call me in frequent spurts throughout the day demanding to know of my whereabouts... [Then] The regularity of the questions felt like being nagged non-stop... There was another piece to this puzzle. Like all girls, Niharika obviously expected some of the sweet conversations that lovers have, to take place between us. But I was quite a selfish b*****d. I had a plain aim: go to her house, make out and leave. I could not talk lovey-dovey too much. It finally struck her that I was a rascal who cared only for himself.
(Actually, all the girls I have ever been with have had this same complaint about me. I would only come to them for my own needs. Otherwise, I might not even take their calls.) When I went to her place next, she was wearing a silk robe. I ran my hand over its coolness around her waist, grabbing her but she pushed me away. 'No, Nawaz!' she said. 'I won't meet you again. This is enough.' I pleaded, I cried, I apologized. But she remained adamant. She had had enough. So that was that, we broke up cutting off all contact. Two months later, another girl came into my life in a most mysterious way. I did not know then that years later, I would marry her."
Excerpts from Siddiqui's tell-all biography An Ordinary Life (Penguin-Viking, 2017).