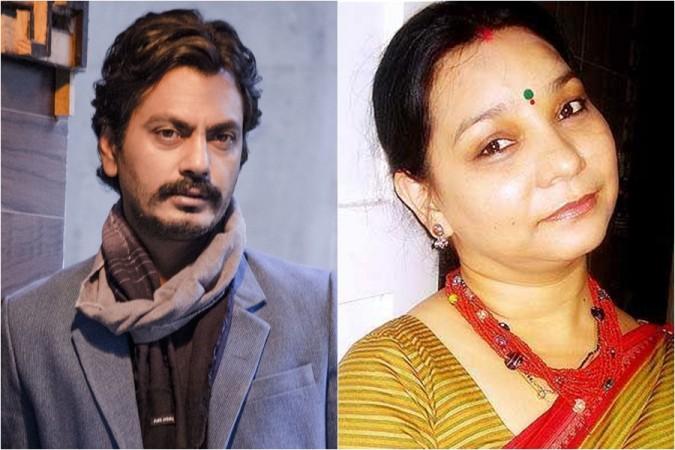 Nawazuddin Siddiqui's memoir An Ordinary Life made a lot of noise when a few excerpts from the biography landed on the internet. The excerpts elaborated his past relationships, one-night stands and extramarital affairs that involved his Miss Lovely co-star Niharika Singh and first girlfriend Sunita Rajwar.
While Sunita slammed Nawaz calling his memoir "full of extraordinary lies" and slapped him with a legal notice demanding an unconditional apology for causing mental harassment, the Raees actor has now replied her in the same coin calling Rajwar's claim merely a publicity stunt.
According to a report in Mumbai Mirror, Nawaz has replied to Sunita's legal notice, claiming that he was referring to some other Sunita in his book.
Calling Nawaz's reply baseless, Sunita said, "He is lying that I am not the same Sunita. He himself has given all the evidence in his memoir that says I am the one he is talking about. First, he wrote my name in the book along with National School of Drama, although without surname, but there was no other Sunita in NSD during our batch." She also said that the actor had used a picture from a play, in which both of them acted, in the memoir.
She added, "Then he referred to that girl as 'Pahadi Girl', again there was no other girl from the hills, other than me. Then he also mentioned that the Sunita in his book was a roommate of famous television actress Achint Kaur, because of whose influence she might have left him, so it's clear as I was sharing accommodation with Achint Kaur."
Sunita was also quoted as saying by Mumbai Mirror that Nawazuddin had sent her a legal notice which stated that if the actress didn't withdraw her case, he would send her behind the bars.
The actress in her notice had demanded an unconditional apology from Nawazuddin through media and Rs 2 crores in damages to be paid by all the parties mentioned in the notice. She added that the amount will be paid towards a charitable cause of fighting sexual exploitation of women
working in entertainment and media industry.
Sunita, in her notice, had also demanded that Nawaz should not use her name in any sort of publication from thereafter.
On the other hand, a Delhi-based advocate Gautam Gulati had also filed a complaint with the National Commission for Women (NCW) against Nawaz for outraging the modesty of Niharika Singh.
The actress had accused Nawaz of fabricating stories and exploiting women just for the sake of selling his book.
Nawazuddin, who came under close scrutiny for revealing explicit details of his private life, apologised on October 30 for hurting sentiments with his memoir and announced on Twitter that he was withdrawing his book.
His biography had been made available in stores for general public on October 25.