Winning a gold medal at senior Asian Wrestling Championships had remained an elusive feat for Indian women wrestlers. However, Navjot Kaur ended the drought for the yellow metal and created history when she finished on the top step of the podium in the continental meet in Bishkek, the capital city of Kyrgyzstan on Friday, March 2.
Kaur defeated Japan's Imai Mayu by a dominant 9-1 margin to clinch the gold medal in the women's 65kg freestyle event. It also remains India's only gold in the six-day meet, in which Rio Olympic bronze medalist Sakshi Malik and Vinesh Phogat added to the country's medal tally.
13 wrestlers, including Kaur in 2013 edition, had reached the final ever since Indian women started participating in the continental tournament in 2001. However, all of them had finished second best in the gold medal matches, according to United World Wrestling (UWW).
Kaur conceded that the pressure of achieving an unprecedented feat had been playing in the minds of wrestlers from the country over the years. However, the 28-year-old wrestler from Punjab revealed she had decided to do something different on the big day.
"This pressure was something that every athlete was having at the Asian Championships But this time, I decided, 'No, I will compete without pressure. I have just one chance to prove myself, so I was prepared. I won't feel any pressure, let me go and play my natural game'," Kaur was quoted as saying by UWW's official website.
"Now I have won and I am proud to become the first woman from India to win a gold at the Asian Championships."
Waited for this for very long: Navjot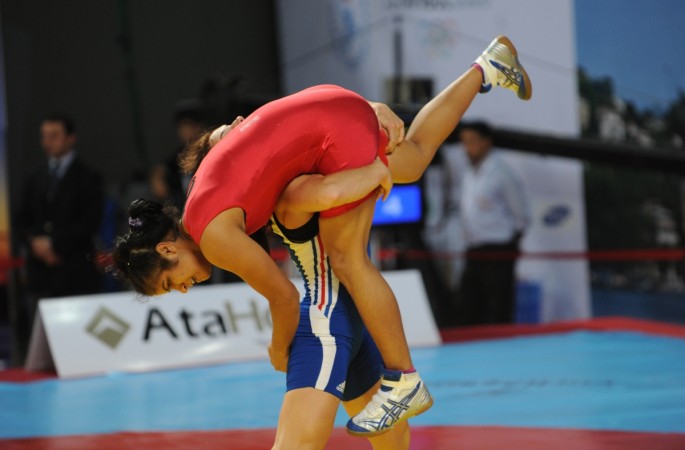 Winner of Commonwealth Games bronze medal (2014) and Asian bronze (2011) and silver (2013), Kaur must have felt pressure as she had lost her first match of the tournament against her final opponent Mayu. She then buckled up and decimated Uzbekistan's Baltaniyazova Bakhtigul 10-0 in her second group stage match to clinch a semi-final berth.
In the semi-final, Kaur defeated Mongolia's Enkhbayar Tsevegmed 2-1. The Indian wrestler was on top of her game, mixing caution with aggression in the final against Mayu. She came up with a brilliantly executed counter-attacking move to her opponent's single-leg takedown attempt, thereby clinching four points and sealing the bout.
An emotional Kaur, chaired by her coaches, did a lap of honor with the Indian tri-color draped on her back. She was quick to credit her coaches for her historic performance on Friday.
"I was a bit nervous, being on this platform and you have a lot of load on your shoulders. But I was confident. I was being boosted, 'No, you can do it, you can beat Japan, it's not something that you can't achieve," Kaur said.
She added: "I have been preparing for this and waiting for this for very long. At the national camp, I was supported and motivated by the whole team, including the coaches and the medical staff."