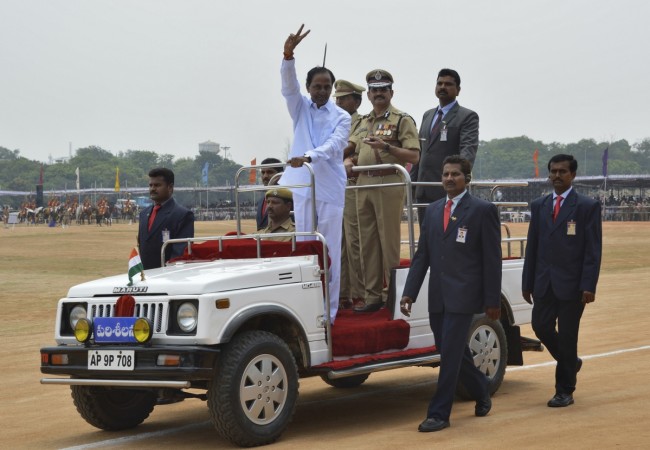 The much contested questions about nativity in the Telangana Survey form, which has raised concerns of ethnic profiling have been dropped from the final draft of the form.
The issue also led to comparisons of Telangana Chief Minister K Chandrasekhar Rao to Nazi-Germany ruler Adolf Hitler.
The 'Intensive Household Survey' initiated by Rao to route welfare schemes to the needy began on Tuesday as the entire state came to a halt, and residents remained indoors to take the survey.
While fears were rife among natives of Seemandhra of being targeted and discriminated if they disclosed their nativity, the state government dropped the questions related to nativity from the form, according to The Hindu.
The controversial questions were listed in columns 21 to 23 in the form to collect data such as which state the individual migrated from, the year of migration and what language they speak. These questions have now been removed.
The government also made the question related to bank account number optional, and has reportedly instructed enumerators not to press respondents for information such as PAN number, bank account number and post office account number if they are not willing to share.
Rao had come in the line of severe criticism when he initiated the survey, as theories emerged that the data would lead to discrimination. He, however, clarified on several occasions that the survey was essentially meant to identify beneficiaries of welfare schemes.
"The government wants to gather some facts about every household in the state so as to implement target-oriented welfare schemes for various sections of people. But, it is not mandatory for citizens to disclose all their details such as bank account number during the survey," he was quoted as saying by The New Indian Express.
Hyderabad on Pause as Survey Kicks Off
The city of Nizams, which will be the shared capital of Telangana and Seemandhra for 10 years, came to a halt on Tuesday as the massive 20-crore household survey kicked off.
Transport services were shut down, with Rao asking the road Transport Corporation to keep its buses off the road.
Schools and colleges were shut, and even petrol stations closed down. Cinema halls and business establishments also pulled down their shutters.
The survey, which began at 7 am on Tuesday is expected to wind up by 8 pm tonight.