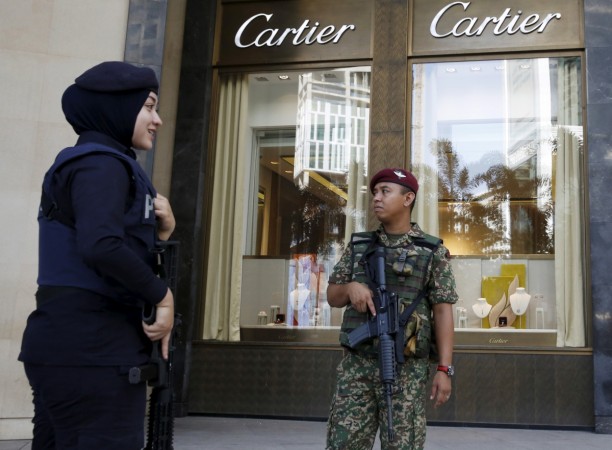 In a continuing swoop on ISIS militants in Malaysia, 13 people were detained Wednesday on suspicion of having links to the terrorist organization, police chief Tan Sri Khalid Abu Bakar tweeted Thursday. Documents related to ISIS were also recovered, the Malaysian police chief said.
Bakar's tweet revealed Malaysia's Bukit Aman Special Branch Counter Terrorism Division (E8) raided terror cells with ISIS links across the country and arrested 13 militants. "Congratulations to E8 after successfully raiding cells with links to ISIS yesterday. 13 people were arrested and ISIS documents were also seized," the Straits Times quoted a translated tweet from Bakar.
Malaysia had detained dozens of people in its nationwide crackdown on ISIS after terror attacks shook Indonesia's capital Jakarta earlier this year. Among them, four suspects, one of whom was reportedly planning a suicide bombing in Malaysia, were arrested between Jan. 11 and 15, the Wall Street Journal quoted Bakar as saying in a statement. Another seven militants were arrested Jan. 23 by the anti-terrorism unit.
Malaysia had also arrested 145 people between 2013 and Jan. 2016 for having links to Islamic State, Reuters reported. Meanwhile Indonesia also beefed up security measures as it arrested several people right after the Jan. 14 Jakarta attack. ISIS' Malaysian-Indonesian unit in retaliation in late January threatened the two countries for arresting its members. In a video released by Katibah Nusantara, the Malay-speaking arm of ISIS, the group said that they would continue to grow in numbers if the two Muslim-majority countries kept arresting its members.
"If you catch us, we will only increase in number but if you let us be, we will be closer to our goal of bringing back the rule of the Khalifah (caliph). We will never bow down to the democratic system of governance as we will only follow Allah's rules," Malaysian newspaper the Star cited the video as saying.