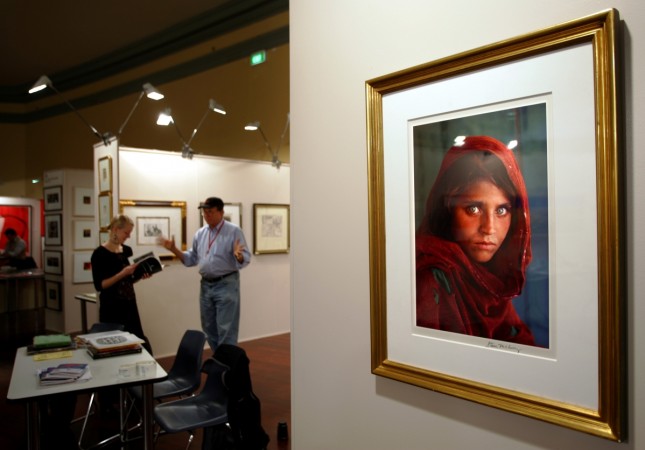 Pakistan's Federal Investigation Agency arrested Sharbat Bibi, National Geographic's famous Afghan Girl, from her home in Peshawar on Wednesday for allegedly forging a Computerised National Identity Card (CNIC).
Two ID cards issued by Pakistan and Afghanistan were recovered from her home, FIA sources told Dawn. Bibi has been charged under Pakistan Penal Code and Prevention of Corruption Act.
Bibi and her sons were issued three CNICs by Pakistan's National Database and Registration Authority (NADRA) in 2015 in violation of the rules and procedures of the organisation. However, NADRA's vigilance department and an official of the FIA said that the information given in the form was fake.
The FIA official then ordered that the CNICs of Bibi and her sons to be cancelled.
The form mentioned that Bibi had two sons. However, the FIA official claimed that Bibi has two daughters and one son. He also said that her relatives present at the mentioned address did not recognise the two men listed as Bibi's sons in the NADRA form, Dawn reported.
The authorities have launched an inquiry into the matter, while the officials of NADRA have come under fire for issuing those ID cards to Bibi and her sons, who are foreign nationals, without legal documentation.
Sharbat Bibi gained worldwide fame as the Afghan Girl when Steve McCurry, a National Geographic photographer, took a photograph of hers at the Nasir Bagh refugee camp situated on the edge of Peshawar in 1984 and identified her as Sharbat Gula. Her photograph was featured on the cover of the June 1985 issue of National Geographic Magazine when she was 12 years old.
Bibi was again discovered by McCurry in 2002 after her family permitted her to meet the man who photographed her 17 years ago. "Her eyes are as haunting now as they were then," McCurry had said when he met her in 2002.
National Geographic had also made a short documentary about her life and described her as the 'Mona Lisa of Afghan war'.