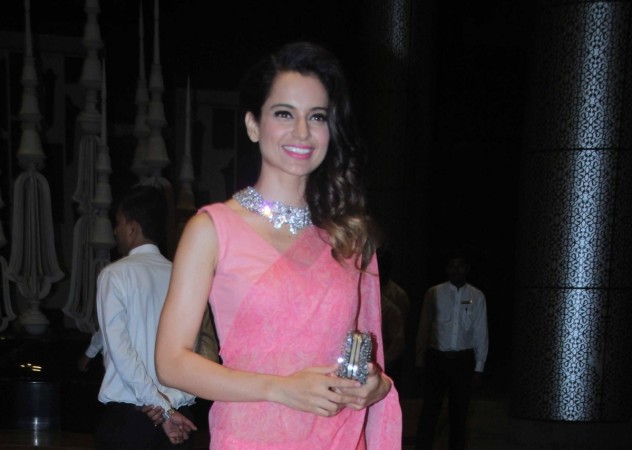 Bollywood actress Kangana Ranaut has bagged the National Award for the third time, while Amitabh Bachchan received the honour for the fifth time. However, Twitterati didn't seem happy with the winners' list, especially Kangana's Best Actress trophy.
This year, Bollywood films have bagged major awards, including Best Film, Best Actors and Best Director, at the 63rd National Film Awards. One of India's biggest blockbuster films "Baahubali – The Beginning" bagged the Best Feature Film Award, while Sanjay Leela Bhansali was honoured with Best Director award for directing "Bajirao Mastani."
Amitabh received Best Actor trophy for "Piku" and Kangana bagged Best Actress title for "Tanu Weds Manu Returns." Twitterati apparently were disappointed with the jury for giving Kangana the best Actress title, instead of Deepika Padukone. Social media users were also unhappy to see Bollywood dominating the categories at the National Film Awards 2016 and other good regional films were not given importance.
Social media users claimed that National Award 2016 was unfair and didn't give awards to the deserving candidates. Twitterati even compared this prestigious award to Filmfare Awards. While several Bollywood celebs are congratulating the winners, a few Twitterati have expressed their disappointment on social media.
Take a look at the tweets here:
Joyjeet Das
I enjoyed Baahubali, but it doesn't deserve #NationalAwards. Ditto for Piku and Tanu Weds Manu Returns!
Cersei Lannister
Everything was deserving apart from Best Actress. #NationalAwards Deepika deserved it for Piku
Shachi Gupta
Since bollywoodisation of #NationalAwards.Next Nat.Awards can b presented as "Sansui Manikchand hero honda national award goes to SRK"
Vinisha Valsan
#NationalAwards not happy with #KanganaRanaut winning best actress @kalkikanmani deserves that honour, @Nawazuddin_S deserved award too
ChristopherKanagaraj
Name is #NationalAwards , but its moreover looks like Hindi Film awards :) Give some main awards to other language films also :)
Prashanth
National awards : @SrBachchan gets it for #Piku . Ranveer or Vikram more suitable candidates.
Sneha May Francis
#NationalAwards jury could have at least worked on rightly pronouncing the titles of regional cinema. Surely it is NOT rocket science
jEnNnNy
disappointed with the best actor and actress category#NationalAwards ... they were good but not exceptional
sangeeth sivan
Should nt d #NationalAwards 4 films hv certain guidelines? Now it is so inconsistent & 2 d whims & leanings of d person heading d jury!