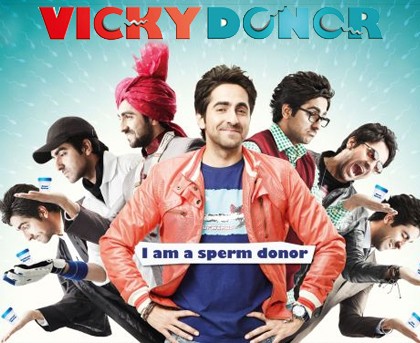 The 60th National Film Awards have been announced for the Feature films and Non feature films categories.
UTV produced films "Paan Singh Tomar", "Kahani" and "Vicky Donor" bagged the limelight with various awards in the feature film section. A total of 38 films rounded up the Feature film list with films in 14 different languages winning the top slots.
"Shepherds of Paradise" (Gojri & Urdu) took away the best film in the non-feature section with its earnest portrayal of the plight of a nomadic shepherd family.
Among others, Harper Collins Publisher Ltd won the Best Writing award for "Silent Cinema in India-A Pictorial Journey". And PS Radhakrishnan was conferred the Best Film Critic award.
Here is the National Film Awards 2012 list:
FEATURE FILMS
1. Best Feature Film - Paan Singh Tomar (Hindi)
2. Indira Gandhi award for Best Debut Film of a Director - Chittagong (Hindi) and Chodiyangal (Malayalam)
3. Best Popular Film - Vicky Donor (Hindi) and Ustaad Hotel (Malayalam)
4. Nargis Dutta Award for Best Feature Film on National Integration - ThanichallaNjan (Malayalam)
5. Best Film on Social Issues - Spirit (Malayalam)
6. Best Film on Environment Conservation - Black Forest (Malayalam)
7. Best Children's Film - Dekh Indian Circus (Hindi0
8. Best Animation Film - Delhi Safari (Hindi)
9. Best Direction - Shivaji Lotan Patil (Dhag)
10. Best actor - Irfaan Khan (Paan Singh Tomar) and Vikram Gokhale (Anumati)
11. Best Actress - Usha Jadhav (Dhag)
12. Best Supporting Actor - Annu Kapoor (Vicky Donor)
13. Best Supporting Actress - Dolly Alhuwalia (Vicki Donor) and Kalpana (ThanichallaNjan)
14. Best Child Artist - Virendra Pratap (Dekh Indian Circus) and Minon (101 Chodiyangal)
15. Best Male Playback Singer - Shankar Mahadevan (Chittagong)
16. Best Female Playback Singer - AartiAnklekar Tikekar (Samhita)
17. Best Cinematography - Cameraman: SudheerPalsane Laboratory: Prasad Film Laboratory, Chennai (KO:YAD)
18 Best Screenplay- i) Screenplay Writer (Original) : Sujoy Ghosh (kahaani)
ii) Screenplay Writer (Adapted) : BhaveshMandalia and UmeshShukla (OMG Oh My God!)
iii) Dialogues : Anjali Menon (Ustaad Hotel)
19. Best Audiography
i) Location Sound Recordist - RadhakrishnanS (AnnayumRasoolum)
ii) Sound Designer - AnirbanSengupta & DipankarChaki (Shabdo)
ii) Re-recordist of the final mixed track - Alok De, Sinoy Joseph and Shreejesh Nair (Gangs of Wasseypur)
20. Best Editing - Namrata Rao (Kahaani)
21. Best production Design - Boontawee 'Thor' Taweepasas and Lalgudi N. IIlyaraja (Vishwaroopam)
22. Best Costume Designer - Poornima Ramaswamy (Paradesi)
23. Best Make-Up Artist - Raja (Vazakkuenn 18/9)
24. Best Music Direction - Shailender Barve (Songs) and BijiBal (Back ground Score)
25. Best Lyrics - Prasoon Joshi (Chittagong)
26. Special Jury Awards - Rituparno Ghosh (Chitragandha) and Nawazuddin Siddiqui (Kahaani, Gangs of Wasseypur, Dekh Indian Circus, Tallash)
27. Best Special Effects - Mukta VFX 9 (Eega)
28. Best Choreography - Pdt Birju Maharaj (Viswaroopam)
29. Best Feature Film in Each of the Language Specified in Schedule VIII of the Constitution-
Baandhon(Assamese), Shabdo (Bengaki), The Good Road (Gujarati), Filmistan (Hindi), Bharath Stores (Kannada), Celluloid (Malayalam), Leipaklei (Manipuri), Investment (Manipuri), Nabar (Punjabi), Eega (Telegu), Harud (Urdu)
30. Best Feature Film in Language other than specified in VIII Constitution - Lessons in Forgetting (English), Ko:YAD (Mising)
31 Special Mention a) Ozhimur i(Malayalam) - Lal
b) Bharat Stores (Kannada) - H.G.Dattatreya
c) Baandhon (Assamese) - BishnuKharghoria
d) Ishaqzade (Hindi) - Parineeti Chopra
e) Dekh Indian Circus (Hindi) - TannishthaChatterjee
f) Dhag (Marathi) - HansrajJagtap
g) Ustad Hotel (Malayalam) - Thilakan
NON-FEATURE FILMS
1 Best Non-Feature Film - Shepherds of Paradise(Gojri& Urdu)
2 Best Debut Film of Director - Eka Gachha Eka Manisa Eka Samudra (Odia) Director : Lipika Singh Darai
3 Best Anthropological Ethnographic Film - Char .....The No-Man's Island(Bengali)
4 Best Bipgraphical/Historical Reconstruction - Celluloid Man
5 Best Arts/Cultural Film - Modikhanyachya Don Goshti (Marathi)
6 Best Promotional Film - Dreaming TajMahal
7 Best Environment Film Including Agriculture - Timbaktu (English)
8 Best Film on Social Issues - Behind The Mist(Malayalam)
9 Best Exploration Adventure Film - Manipuri Pony
10 Best Investigative Film - Inshallah Kashmir
11 Special Jury Award - I Am Micro & Cancer Katha
12 Best Short Fiction - Kaatal (Marathi)
13 Best Film on Family Values - After Glow
14 Best Direction - (Kaatal) Vikrant Pawar
15 Best Cinematography - Kaatal - Cameraman: AbhimanyuDange Lab : Reliance Media Works and Shepherds of Paradise (Gojri& Urdu) - Cameraman: Raja Shabir Khan
16 Best Audiography - Do Din KaMela - Harikumar M.
17 Best Editing - Celluloid Man - Irene Dhar Malik
18 Best Narration/Voice Over - SuranjanaDeepali - MoniBordoloi
19 Special Mention:
a. Pinch of Skin - Priya Goswami (DIR)
b. Allah Is Great - Andres Lannetta (DIR)
c. Raah (Animation) - Sanjay Jangid (Animator)
Best Writing on Cinema
Best Book on Cinema - Silent Cinema in India - A Pictorial Journey, Publisher-Harper Collins Publishers India, Author- BD Garga
Best Film Critic - P S Radhakrishnan
Special Mention - Piyush Roy (For his in-depth knowledge of cinema and easy, informative style.)