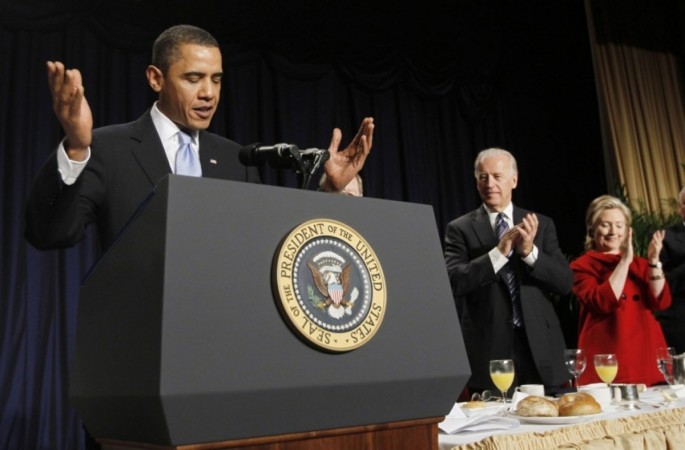 Though not an official holiday, the National Day of Prayer is an American tradition that has been in practice since 1952.
On National Day of Prayer, thousands of Americans from different faiths gather together to pray for the nation and its leaders.
It is held on the first Thursday of May each year.
The main event for the National Day of Prayer 2015 will be held in Washington, DC, where mostly Christian leaders will gather together to lead a series of prayers. A live stream of the three-hour event will start from 9am EST.
The live stream will be broadcast online from the Cannon House Office Building on Capitol Hill.
The event can be seen at the official National Day of Prayer website, or through God TV.
National Day of Prayer 2015
National Day of Prayer is an annual event started by President Harry Truman after he signed a bill making National Day of Prayer into law in 1952. The theme for National Day of Prayer 2015 is "Lord, Hear Our Cry."
The organisers of the event, National Day of Prayer Task Force, claim that more than 35,000 prayer gatherings will be conducted across the United States.
Million of Americans are expected to participate in prayer and scripture reading. Celebrities, such as popular musician and Grammy Award winner Ricky Skaggs, is also said to attend the event.
Here are ten Bible Verses that teach us how to pray:
1 Chronicles 16:11 - Seek the LORD and his strength, seek his face continually.
Psalms 4:1 - Hear me when I call, O God of my righteousness: you have enlarged me when I was in distress; have mercy on me, and hear my prayer.
Psalms 145:18 - The LORD is near to all them that call on him, to all that call on him in truth.
Proverbs 15:29 - The LORD is far from the wicked: but he hears the prayer of the righteous.
Matthew 7:11 - If you then, being evil, know how to give good gifts to your children, how much more shall your Father which is in heaven give good things to them that ask him?
Luke 18:1 - And he spoke a parable to them to this end, that men ought always to pray, and not to faint;
Romans 8:26 - Likewise the Spirit also helps our infirmities: for we know not what we should pray for as we ought: but the Spirit itself makes intercession for us with groanings which cannot be uttered.
Philippians 4:6 - Be careful for nothing; but in every thing by prayer and supplication with thanksgiving let your requests be made known to God.
Colossians 4:2 - Continue in prayer, and watch in the same with thanksgiving;
1 Thessalonians 5:17 - Pray without ceasing.