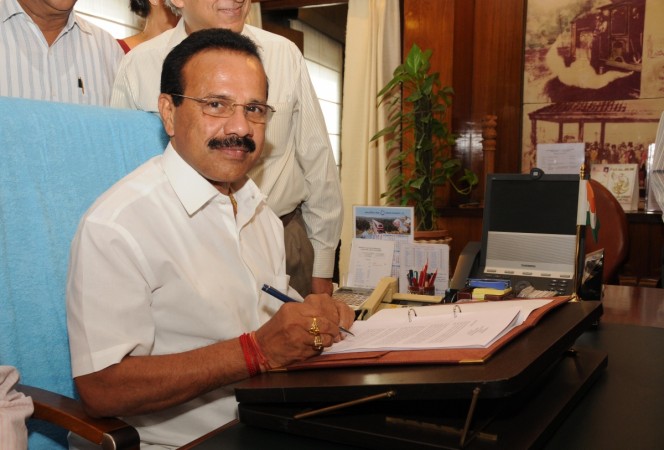 Union Law Minister DV Sadananda Gowda on Tuesday claimed that a journalist with a national daily newspaper apologised to him after misquoting him on gay rights issue in an article posted on its website earlier in the day.
The Economic Times had carried the article on Tuesday where Gowda was quoted as saying that India could look into scrapping the controversial Section 377 of the Indian Penal Code, which criminalises gay sex, and pave the way for recognition of homosexuals.
Hours after the article surfaced, Gowda claimed that he was misquoted and asked the ET to remove the story. The business daily was also quick to withdraw the article from its website.
"It is totally misquoted. When I was asked about the judgment that was given by the US court, I said that it is not an easy task in our country. So, the people of that country might have accepted it but here it has to be widely debated. Only then can something be done. Otherwise, it is not an easy task. So, we have no idea of scrapping or doing anything about [Section] 377," ANI quoted Gowda as saying.
The minister even claimed that the ET reporter, Sowmya Aji, sent him an SMS seeking his apology.
@ETPolitics @EconomicTimes why u r misquoting and misleading ..I object this is wrong report . and u r reporter sent SMS to me saying sorry

— Sadananda Gowda (@DVSBJP) June 30, 2015
@ETPolitics remove the wrong report immediately. Why r u misquoting . Your reporter Mrs Sowmya Aji sent sorry message — Sadananda Gowda (@DVSBJP) June 30, 2015
Swamy calls homosexuals as 'genetically handicapped'
Meanwhile, BJP leader Subramanian Swamy sparked another debate on the social media by calling the homosexuals "genetically handicapped".
Talking to ANI, Swamy said "homosexuality is a genetic disorder". This statement was posted as a tweet on ANI Twitter handle. Replying to another user's comment on the ANI post, Swamy said "Homos are genetically handicapped".
I think the law minister was misquoted,our party position has been that homosexuality is a genetic disorder-Subramanian Swamy,BJP

— ANI (@ANI_news) June 30, 2015
@GentleGawker : Issue is not respect. We respect handicapped persons. Homos are genetically handicapped — Subramanian Swamy (@Swamy39) June 30, 2015
Responses to his remark started pouring in. Many mocked at him and his intellect.
He is an expert in the Vedas and Ramayana which are more scientific than science itself. :P @_TheTrollKiller @Swamy39 @GentleGawker

— Satyapriyan T V (@Satyapriyan) June 30, 2015
@ANI_news @Swamy39 you claim to be well-read. How about picking up one of the many scientific studies that says it is just a variation? — Anuradha Santhanam (@anumccartney) June 30, 2015
@ANI_news @rohitagarwal86 Genetic disorder only means deviation from norm, meaning majority behaviour, which is neither a crime nor culpable

— Gautam Sen (@gautamsen12) June 30, 2015
. @Swamy39 in science one needs to support his/her comment(s) with reference/source. What is your source for this? @ANI_news — Prateek Garg(प्रतीक) (@IndiaDawn) June 30, 2015
@ANI_news If @Swamy39 @BJP4India think homosexuality is genetic,whats the point in criminalising it or trying to change it.Playing God?

— Anusha J (@Anushagjw) June 30, 2015
The Delhi High Court had in 2009 scrapped Section 377 and said it was unconstitutional. However, the Supreme Court in December 2013 overturned the high court order and once again made gay sex a punishable offence.