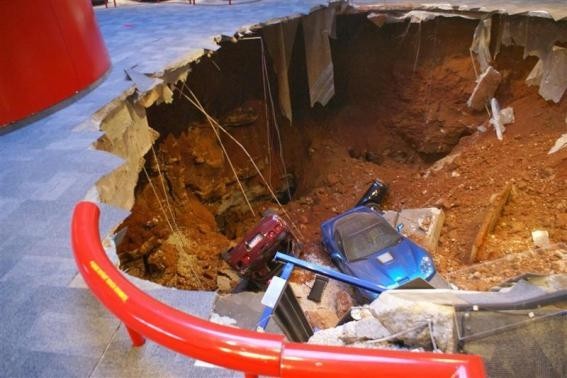 A huge sinkhole opened up at the National Corvette Museum in Bowling Green, Kentucky, swallowing eight cars with it on Wednesday morning.
The monstrous cavity occurred in a structure called the Skydome, which is said to be separate from the main building. Staff members arrived at the museum to discover that the huge sinkhole had formed at 5:39 am, eating up the cars on display as the floor went rumbling down, the New York Times reported.
The hole was estimated to be 40 feet wide and nearly 30 feet deep, reports suggests. The skydome structure is said to have no basement.
No injuries were reported, but a 1993 ZR-1 Spyder and a 2009 ZR1 "Blue Devil" on loan from General Motors were among the iconic cars piled up in the gaping pit, Reuters reported.
"It seems almost Biblical in a way, to have the ground open up and swallow the cream of the collection of the museum," Corvette historian Jerry Burton told the news outlet. "What are the odds?"
It is not unusual for sinkholes to appear in the United States, but this one seems to be one of rare occasions, where the entire incident was filmed by both the security camera in the building and later by remote-control helicopter that showed the cars that crashed into the sinkhole.
Watch the Security Camara footage swallowing the cars, released by National Corvette Museum below:
Also watch footage from a remote control helicopter showing the destruction below:
The Museum has been showcasing the Corvette, America's Sports Car since 1953. The museum was established as a 501 © 3 not-for profit foundation with a mission of celebrating the invention of the Corvette and preserving its identity.
Autoblog has reported that all of the cars in the Ksydone that were not swallowed by the sinkhole have been evacuated with only two exceptions. Autorities are also trying to figure out how to safely extract the cars swallowed.