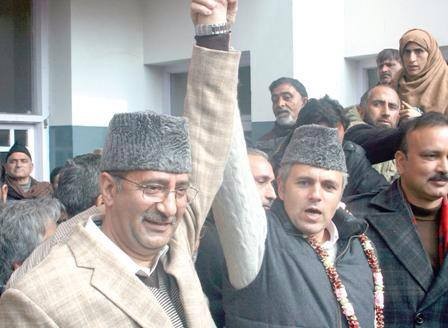 In a rather bizarre incident, Nasir Aslam Wani, who is the Provincial President of the National Congress party, kicked his own party worker, as the party's convention heated up and things got out of control, in Ganderbal, Jammu and Kashmir.
Things heated up at the convention organized by the National Congress, as two different factions split the workers.
A section of the crowd, who were in support of Sheikh Ishfaq Jabbar, started raising slogans against the National Congress, who had promised the leader a mandate from Ganderbal. They demanded that the NC fulfil their promise to Jabbar, and hand him the mandate.
However, there was another faction at the convention, who believed that Jabbar should not stand from Ganderbal. They wanted Omar Abdullah to get the mandate from Ganderbal and believed that the NC would not win from the area, if Abdullah did not stand from the region. Hence, they started raising slogans, urging the party leaders to hand Abdullah the mandate.
Following this commotion, Wani was seen kicking one of the party workers at the convention.
Nasir Aslam Wani kicks out at one of his own party worker at a convention organized by the National Congress, in Ganderbal, Kashmir, on Wednesday. [Video Courtesey: The Kashmir Monitor]
As Wani kicked out at one of the party workers, another one of them tried to get up and confront him. However, the second party worker was stopped by the security personnel. Many party workers left the convention after this incident, shouting anti-NC slogans, according to reports.
"Wani lost his cool and came down from the stage and repeatedly kicked a party worker. His action was resented by other workers who warned of election boycott if the party leaders don't change their attitude towards their workers," a person, who witnessed this rather unusual incident, told IBN Live.
The two sets of party workers were about to clash with each other, but certain leaders intervened in time, and avoided an escalation of the issue.