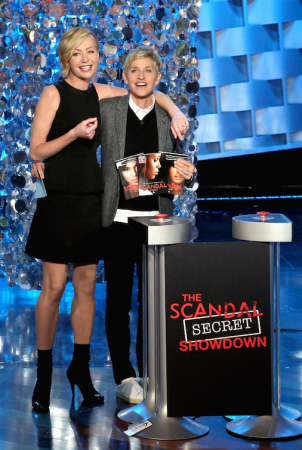 National Coming Out Day is the internationally celebrated civil awareness day that celebrates the individuals who publicly identify as a sexual minority.
11 October 2014 marks the 26th anniversary of the National Coming Out day, which was initiated by the Rights Campaign in 1988 to encourage lesbian, gay, bisexual, and transgender (LGBT) community and their allies to come out in support of visibility and acceptance, during the National March on Washington for Lesbian and Gay Rights.
Coming out (of the closet) is a figure of speech that euphemises LGBT people disclosing their sexual orientation or gender identity. There have been many debates regarding whether sexual and gender identities are a private issue and whether these information should remain "in the closet".
The videos below will show that "coming out" is a part of an individual's psychological process or journey; a means toward feeling gay pride instead and moreover shaking away from the shame and social stigma that still surrounds a person who identifies as part of the LGBT community.
Ellen Degeneres
The world famous comedienne and talk show host came out as a lesbian in 1997 that sparked many controversies and even stunted her professional career for a while. It was during the fourth season of "Ellen", her sitcom, that she publicly came out in an appearance on The Oprah Winfrey Show "after the longest striptease", as Winfrey put it. She was the first leading actress in a prime time television series to do so.
Shortly afterwards, her character, Ellen Morgan, also came out to a therapist played by Winfrey, and the series went on to explore various LGBT issues, including the coming-out process.
Ricky Martin
After years of sidestepping questions about his sexual orientation, singer Ricky Martin revealed on his official website (the page has now been disabled) that "I am proud to say that I am a fortunate homosexual man. I am very blessed to be who I am."
When Winfrey asked Martin why he had decided on coming out, the La Puerto Rican pop star said, "I couldn't take it anymore...It was too painful. But, I guess the most important thing is my children. When I was holding them in my arms, I was like, what am I gonna teach them how to lie?"
Tom Daley
British Olympic diver Tom Daley came out in December 2013 in an emotional YouTube video, wherein he admitted that "come spring this year, my life changed massively when I met someone and it made me feel so happy, so safe and everything just feels great. And that someone is a guy."
The "guy" mentioned in the video is Hollywood screenwriter Dustin Lance Black, who he is still dating.
He adds in the video that he is still the same guy and is inspired more than ever to win an Olympic gold medal at Rio 2016 for Great Britain.
Ellen Page
"Juno" star Ellen Page, made the announcement that she is gay, in a moving and deeply personal speech on 14 February 2014, at Time to Thrive, a conference to promote the welfare of LGBT youth.
"I'm here today because I am gay," Page, 26, proudly announced to the audience, "and because maybe I can make a difference, to help others have an easier and more hopeful time... I am tired of hiding and I am tired of lying by omission.. My spirit suffered, my mental health suffered and my relationships suffered."
A tearful page had concluded her eight-minute speech by wishing the audience a happy Valentine's Day, and adding, "I love you." Her "coming out" was met with a standing ovation and many pats on the back from the LGBT community within and outside Hollywood.
Matt Bomer
Having been the subject of tabloid and blogosphere rumours for many years, "White Collar" star Matt Bomer finally went public about his sexuality, when he thanked his "beautiful family, Simon Simon, Kit, Walker, Henry, thank you for teaching me what unconditional love is. You will always be my proudest accomplishment."
He has since gone on to play an important role in the "The Normal Heart", an HIV/AIDS drama that portrayed the life of the gay community during the 1980s.
Anna Paquin
In a 2010 ad for "Give A Damn Campaign", the True Blood star came out as bisexual for the first time, saying "I'm Anna Paquin. I'm bisexual and I give a damn." Other celebrities who appear with the actress include Cyndi Lauper, Elton John, Jason Mraz, Cynthia Nixon, Whoopi Goldberg, Wanda Sykes, Sharon Osbourne, Clay Aiken and Kevin Alejandro.
In the video, Paquin passionately reveals that a hate crime is committed approximately every hour of every day in America.
The touching video also speaks of how the gay, lesbian, bisexual and transgender youth are always fearful of getting beaten up or even killed, simply because of who they are.