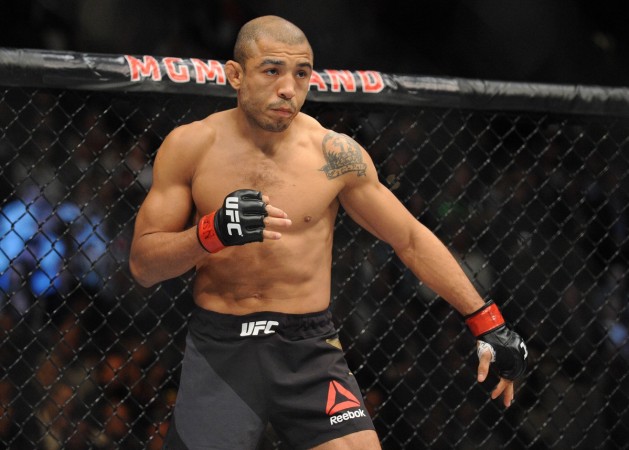 Former UFC Featherweight champion Jose Aldo believes Nate Diaz will get a win in possibly as early as the first round against Conor McGregor during their non-title welterweight rematch in UFC 200. The two decorated fighters will have their rematch in the company's landmark event, scheduled for July 9 at the T-Mobile Arena in Las Vegas.
Aldo is desperate to meet the Irishman McGregor once more inside the octagon for the UFC Featherweight championship. The duo clashed last December in the main event of UFC 194, wherein McGregor knocked the former UFC pound-for-pound king out in as little as 13 seconds of the first time.
The Brazilian Aldo knows that he has a great chance to meet McGregor once again, possibly this year itself, if he becomes the interim UFC Featherweight champion, come UFC 200. Aldo is scheduled to take on Frankie Edgar for the interim title and UFC President Dana White mentioned earlier that the winner of the bout faces Aldo for the championship next.
Aldo, meanwhile, believes that although McGregor thinks he can match up to the American this time around in the welterweight fight, a fully-prepared Nate Diaz will be unstoppable. Diaz didn't undergo a training camp ahead of his battle against McGregor last month in UFC 196.
"Nate wins again [in the rematch]," the Brazilian fighter was as quoted by Fox Sports. "He's [McGregor's] used to this [145 lbs Featherweight category] weight. It's really hard to move up in weight and continue winning."
"It's going to be different now that Nate will be more prepared," he reasoned."He can do his thing -- anything he wants -- from start to end. He can slap him -- anything -- because he will win. It can be faster this time. Nate will be prepared, and will have enough time, so it can be faster this time."
Meanwhile, McGregor's manager Audie Attar has also confirmed that the Irishman's fight against Diaz in the welterweight division will be his final one as he will return to the featherweight category after that. "No, that would have already happened," Attar was quoted by the Daily Star when asked if McGregor could vacate the 145lb title.
"That was something that Conor was adamant about. He's going to keep his belt, he's going to defend. At the end of the day, if he was going to vacate, he would have done it already."