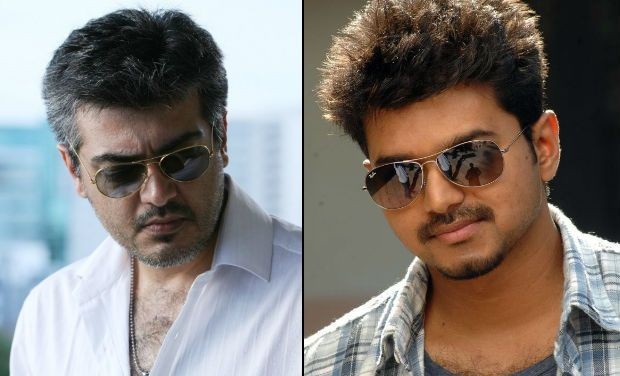 Kollywood has united again in Malaysia for an event called Natchathira Vizha. Over 300 celebrities from the film industry have gathered to entertain Malaysian Tamils on Saturday, January 6.
Many leading actors, including Rajinikanth, are part of the event, but some big names like Ajith, Vijay and Vikram are giving the event a miss.
Catch the Live Updates of Natchathira Vizha | Photos | Videos
Although the exact reasons behind the actors not attending the event are yet to be revealed, the development has irked a section of Tamil cine-goers. Especially, people are targeting Ajith and Vijay as they feel the two actors have failed to support a Nadigar Sangam event again.
"What #Ajith and #Vijay are skipping #NatchathiraVizha... dont say that that were committed..... the event was planned 3 months ago and skipping cannot be a choice when the whole industry is uniting..... Stars Egos, [sic]" a fan named Rajesh shares his anger on Twitter.
The Nadigar Sangam in association with MyEvents International and with the support of Malaysia Major Events — a subsidiary of the Ministry of Tourism and Culture Malaysia, has organised the event to raise funds for the construction of the new building of the actors' guild.
A cricket tournament was held in April 2016 for the same purpose in Chennai. Telugu superstars Balakrishna, Nagarjuna, Kannada actors Shivaraj Kumar, Sudeep and many others graced the event, and Kollywood was in full attendance. Rajinikanth, Kamal Haasan and Vikram were also part of the event, but Ajith and Vijay had opted out of the event for reasons best known to them.
"The decision to skip #NatchathiraVizha by #Ajith and #Vijay show that they are bigger than the industry.....remember they had not attended similar cricket event in Chennai 2 years ago when Telugu and Kannada actors participated in it...[sic]" a fan named Priyanka said on Twitter.
As a result, a section of people is venting online. Vikram have been apparently exempted from criticism as he participated in the earlier event in Chennai.
Moreover, Vikram is being cut some slack given that the release of his film Sketch is around the corner.
Meanwhile, the red carpet of Natchathira Vizha was held on the evening of Friday, January 5. The actual event will happen on Sunday, and includes live performances, comedy skits, cricket and soccer matches.
The friendly cricket game will see Kollywood celebrities divided into five teams. The actors' guild aims to raise at least Rs 50 lakh from the mega event.