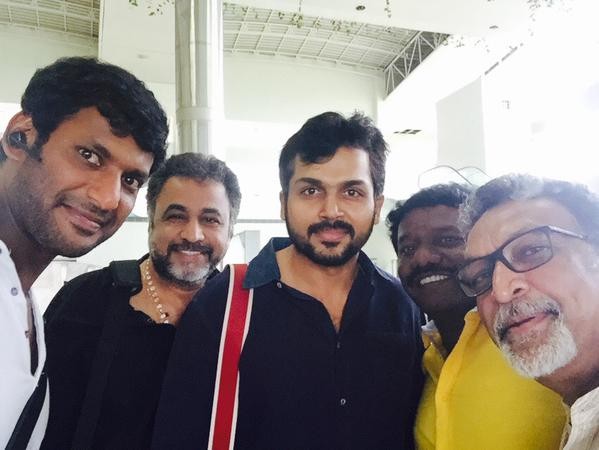 Natchathira Vizha, organised by Nadigar Sangam, has landed in a controversy as for allegedly not inviting senior actors Sarath Kumar and his wife Raadikaa. The actress herself revealed this on Twitter.
Actor Mohan Raman had posted on Twitter that his passport was missing, hence he could not board the flight. He wrote, "My Passport is still not traceable. I wish all my colleagues a great time , the fans in Malaysia a great show. Truly missing being the cricket commentator. God bless Nadigar Sangham. @VishalKOfficial @hasinimani @Rohinimolleti @superstarrajini @manobalam Please pray I find it.. [sic]"
Reacting to his comment, Raadikaa said, "Ha ha to all who are asking why @realsarathkumar and me not in KL, we were not invited. @actormohanraman does that mean our contribution to cinema is not there #JustAsking. [sic]"
Her fans bombarded her with questions on the reason behind the Nadigar Sangam not extending an invitation, but the actress refused to react. However, she thanked her followers and posted, "Back to work the hustle bustle of Vaani Rani, office , kids and lifethank you all for the support and love. [sic]"
Vishal's team had defeated Sarath Kumar's team in the previous Nadigar Sangam election. After coming to power, the new office bearers had revoked the membership of Sarath Kumar and Radha Ravi over alleged corruption charges.
Nonetheless, Sarath Kumar's daughter Varalaxmi Sarathkumar has attended the event in Malaysia which is organised to raise fund for the construction of a new building of Nadigar Sangam.
Natchathira Vizha witnesses the participation of over 300 artists from Malaysia and India. Rajinikanth and Kamal Haasan were the prime attraction of the celebrity function held at at National Stadium in Bukit Jalil.