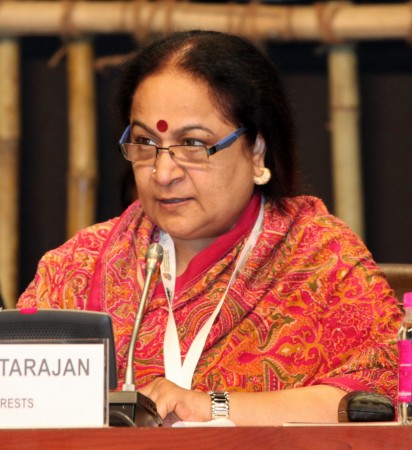 The revelations in the letter that former Union environment minister Jayanthi Natarajan wrote in November last year explaining her agony to Congress president Sonia Gandhi has further tainted the image of the party, which had already lost its credibility after being named in a number of scams.
Natarajan, who announced her resignation on Friday at a press conference in Chennai, cited reasons from the letter, published by The Hindu. In the letter, she pointed out how she was sidelined from the party slowly and gradually despite her 30-years of dedication and hard work.
In an attempt to bring out the injustice meted out to her by party members, Natarajan revealed certain things that can tarnish not only Congress' image but also that of Congress president Sonia Gandhi and party vice-president Rahul Gandhi.
Here are a few excerpts from the letter that claim how Rahul and another Congress leader Ajay Maken slowly removed Natarajan from all party positions, and allegedly tarnished her image by defaming her for doing what she claimed to have done never in her entire political career.
"... I was carrying out my duties as Minister of State (I/C) Environment and Forests in the routine course, when suddenly that day on December 20, 2013, the then PM, Dr. Manmohan Singh summoned me to his office... He said "Jayanthi, I have been told by Congress President, that your services are required for party work." ... "She wants you to resign." ... "Today."
"Thereafter, the media was flooded with negative stories about me. The same day, namely, the day after I resigned, Shri Rahul Gandhi addressed a FICCI meeting of industrialists, where he made uncomplimentary references to delays in environmental clearances, and the adverse effects on the economy, and assured the corporate world, that the party and government would henceforth ensure that there would be no delays, and bottlenecks for industry..."
"During my tenure as the Minister, it was the clear and specific policy of the party, to take all steps to protect the environment,... As chairperson NAC, you have written several letters to me regarding projects in the Environment Ministry, and protection of tribal rights, and I have always kept you briefed that due care was being taken by me to protect the environment. I received specific requests [which used to be directives for us] from Shri Rahul Gandhi and his office forwarding environmental concerns in some important areas and I took care to honour those "requests"... Acting on Rahul's office's instructions, I "rejected environmental clearance to Vendanta despite tremendous pressure from my colleagues in cabinet, and huge criticism from industry for what was described as "stalling" a Rs. 30,000 crore investment from Vedanta."
"The same happened in the case of the Adani projects, where I faced tremendous criticism from within the cabinet and outside, for stalling investment at a time when the country was going through a difficult time in terms of the economy. The complaints ... of environmental violations in the Adani case were forwarded to me by Shri Rahul Gandhi's office, and I was told to liaise with Shri Dipak Babaria in the matter... A few days before I was removed as Minister, I needed to review the Adani file for some legal issues. When I sent for the file, I was told that it was "missing". After considerable search, my officials "found" it apparently in the washroom of the computer section, the very day on which I had been asking to resign. Clearly some officials in my then Ministry did not want to send that file back to me, for unknown reasons."
"I wrote a passionate message to Shri Rahul Gandhi, about my removal as Minister, and his speech, at FICCI, and asked him what wrongdoing I had committed to warrant this treatment. I asked for time to meet him. He replied that he was "running a little busy" at that time, but that he would meet me a little later."
" ... later in January, I ..." received "a telephone call from Ajay Maken, head of Congress Media cell. He informed me, that my name was being removed from the list of party spokespersons, that the decision was taken "at the highest level" and other work would be assigned to me...""I also feel that I have been pressurised and used to lead issues which I considered wrong. An instance: ... I was called upon to attack the present Prime Minister Shri Narendra Modi on what is referred to in the media as 'Snoopgate'. Despite the fact that I initially refused, ... Shri Ajay Maken telephoned me on November 16, 2013, while I was on tour and asked me to come to Delhi immediately to address a press conference on the issue. I expressed my disinclination to do this, and refused the assignment, mentioning that I was a Minister at that time, and this should not be taken as the point of view of Government... Shri Maken told me once again, that this was a decision taken at "the highest level" and that I had no choice in the matter. After the press conference throughout the controversy which followed I was told by Shri Maken to fiercely attack Shri Modi, on TV channels and during debates, although I was otherwise never fielded in the media after appointment as Minister."