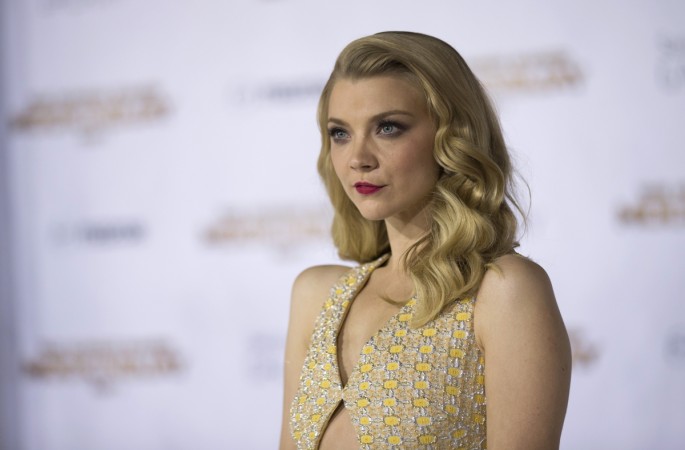 Natalie Dormer's "Game of Thrones" character Margaery Tyrell might not be anywhere near death now, but the actress is ready for the eventuality as the series catch up to George R.R. Martin's books.
The actress who has been making the rounds promoting "The Hunger Games: Mockingjay – Pt. 1," appeared on "Conan" on Monday and revealed that she was not sure if her character would survive.
"I just finished filming Season 5," Dormer told Conan O'Brien, "and we're around the area where we were up to with Margaery in the books, so I'm entering into the fraternity of what the f--- is going to happen to me now."
But Dormer has specific ideas on how she would want to bid adieu to her character. "I don't know, maybe via dragon," she said. "White walker or dragon would be good."
The last fans saw, Margaery Tyrell was seen courting Tommen Baratheon after Joffrey's murder. Speaking about her character's move to befriend the young king, Dormer told E!Online in October: "Margaery is just trying to play the next, you know, round of cards with the ones she's been dealt, so it's a particularly awkward situation for her, and young Tommen as well, so she's just trying to befriend the kid."
On romancing a young character, Dormer added: "She's just trying to befriend him. It's very awkward as an actress being given that specification. It's not an easy thing to do. I wasn't expecting to be alive still. But here I am, so I'm just navigating it the best I can and as delicately as I can, to be honest."
In the books she does go on to wed Tommen, but gets herself imprisoned when Cersei accuses her of adultery so as to remove her from Tommen's life. But the plan will backfire when Cersei's plot is revealed by a guard.
After being arrested, Cersei has her head shaved and will make a penance walk from the Great Sept to the Red Keep. This scene will be featured when season 5 of "Game of Thrones" airs on HBO in April 2015.