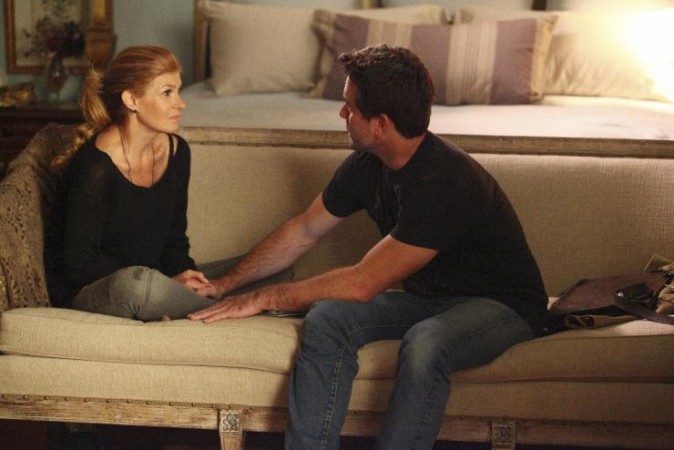 "Nashville" Season 4 is just a month away from its midseason premiere, and it looks like things are going to get very romantic. ABC's drama went on a long hiatus after airing the midseason finale Episode 10 titled "We've Got Nothing But Love to Prove" on Dec. 9, 2015. The network has confirmed that it will return with the season's new episode only on March 16, 2016 and has also released a brand new extended promo of the upcoming episode.
Well, it looks like fans will be treated to a lot of love and romance when "Nashville" returns with its all-new midseason premiere episode "Forever and For Always" next month; at least that's what a brand new extended promo of Episode 11 teases. The new sneak preview shows the chronology, the ups and down and how Rayna and Deacon's relationship progressed over the years, before they say "I Do."
The two-minute clip gives fans a glimpse of Rayna-Deacon's wedding day, before taking us through all the drama, breakups, and journey the two of them have gone through. In the video, Deacon is seen wearing his suit and saying the lines, "Rayna, you have always changed my world for the better. There is no one I would rather have beside me on this journey." Well, this sounds very much like Deacon's wedding vows. And just after this, the couple is shown rehearsing their first kiss as a married couple.
Now, this is so sweet and cute, and too good to be true. After all the dark times fans have witnessed in the previous episodes, this new promo gives a ray of hope. But at the same time makes you wonder if it's really happening.
Will Rayna-Deacon wedding really go as smooth as shown in the trailer? We will get to know only when Episode 11 airs.
"Nashville" Season 4 is on a midseason break and will return with Episode 11 on March 16, 2016. For more information on the upcoming episode and live streaming details, don't forget to check back here.