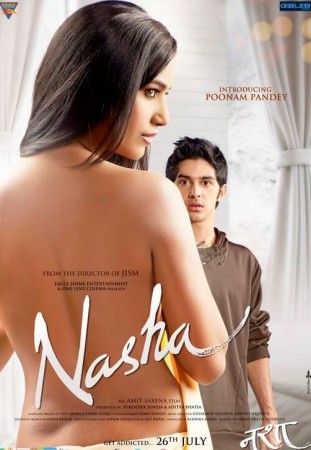 Poonam Pandey's debut film "Nasha" has finally hit the screens and failed to impress critics. The erotic thriller directed Amit Saxena has opened with negative reviews at at the box office.
"Nasha" is about a teenage boy who falls in love with a 25-year-old woman. The film also features Shivam and Ranbir Chakma in pivotal roles.
Check out the critics' reviews here:
Mohar Basu of Koimoi.com writes: "Nasha flaunts its titillating skin show with such pride that it will grotesque you out. Incoherent and ridiculous, this one is lowly and substandard juvenile erotica that questions your ability to reason with sanity! Watch it if you are sexually frustrated and have no way to satiate your brimming testosterone levels.
"Initially beginning as an obsession, he is drawn towards her and is hopelessly smitten. Tackling the upsurge of sexual tension, Nasha tries too hard to be a sexy tale which narrates the story that must be forbidden!
"There is some sleazy erotic literature used for the research of Nasha. It is predictable and hollow as the story continues to ramble about inconsequential relationships based out of sheer lust. The film is incorrigible in its pretentiousness.
"Nasha is misleading as it gives you a wrong impression of being an erotica. It is the chronicles of a lust stricken puppy faced teenager. I don't usually get this impish but Nasha epitomizes cinematic crap with such outrageous confidence that you'll be appalled. I am going with 1/5 and an advise that Poonam Pandey should retire off already and spare us any further disasters!"
Taran Adarsh of Bollywood Hungama writes: "NASHA has been made on a plot which has been the domain to many likeminded films like MERA NAM JOKER [1970], DOOSRA AADMI [1977], EK NAYI PAHELI [1984], MAYA MEMSAAB [1993], EK CHHOTISI LOVE STORY [2002], NISHABD [2007] and CHEENI KUM [2007], wherein a young boy/man falls for an older woman or vice versa. Even though the promotions of NASHA make the audience's expectation meter soar really high, expecting more of skin show in the process, director Amit Saxena serves an emotional tale instead of padding the narrative with steamy sequences.
"With a film that's woven around such a plot, exploring myriad emotions, one expects more than a love story in films of this genre. While director Amit Saxena tries to explore every possible angle of growing up years in a teenager's life, the film suffers in its first half itself, but manages to pace up in the post-interval portions. Even though it ends on a conventional note, there's hardly any innovation that one can bring to this film considering the plot/theme of the film.
"Poonam Pandey needs to work really hard on her expressions and dialogue delivery. The surprise packet of the film, however, is Shivam, who appears supremely confident and has the potential to grow as an actor.
"On the whole, NASHA is more of an emotional love story than a film that rides on skin fest. An average fare!"
Gaurav Malani of The Times of India writes: "If you are expecting the barefaced boldness of Poonam Pandey's provocative tweets from her debut film, you would be better-off glued to her social media account. With the aesthetics of Jism that director Amit Saxena brings to the film, though Nasha has enough skin-show, it doesn't end up as a sleaze-fest. Thereby it marginally escapes falling in the B-grade zone that is meant for downright titillation. But at the same time it is so shallow on story that it can't even win an A-grade esthetic, despite the namesake certification.
"Another setback with Nasha is that though it essentially relies on sensuality, its female lead Poonam Pandey doesn't exude as much sex-appeal on celluloid as her twitpics promised. But then again the film is largely seen through the perspective of its male protagonist and Poonam just happens to be the object of his obsession.
"Poonam Pandey just manages to walk through the role. While one doesn't expect histrionics from her, she doesn't set the screen on fire either.
"Nasha might have a tempting facade but is not addictive enough!"