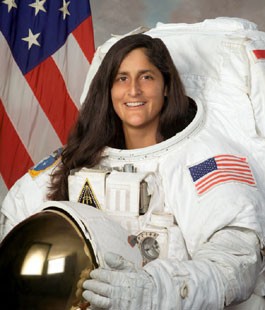 Indian-American space scientist, Sunita Williams, will return in July to the International Space Station (ISS) where she worked as a flight engineer for six months back in 2006.
Williams will take off on July 16, 2012 to the ISS from the Baikonur Cosmodrome in Kazakhstan with flight engineers Yuri Malenchenko of the Russian Federal Space Agency and Akihiko Hoshide of the Japan Aerospace Exploration Agency, Nasa said.
Williams will work as a flight engineer on the space station's Expedition 32 with her colleagues and on reaching the space station she will work as the commander of Expedition 33 crew. She will be busy at the ISS following the arrival of commercial re-supply vehicles. She will also be involved in a couple of spacewalks during her time in the ISS.
"I'm just looking forward to seeing the full capability of the space station, it's an experiment, not only the things that we're doing inside but also all the engineering that has gone into allowing us to dock new vehicles, do space walks, Russian and US. So, it's a pretty complicated vehicle now and I'm looking forward to being part of it," Williams told a news conference, according to Indian Express.
Williams, an American woman of Indian heritage, was born to a Gujarati father and a Slovakian mother. She earned her master's degree in engineering management at Florida Institute of Technology and applied to become an astronaut, but her application was rejected. She then applied again in 1998 and was selected.
Her first mission in Nasa was to work with a crew of nine members from NEEMO 2 team 60 feet below the surface of the Atlantic Ocean as part of the Nasa Extreme Environment Mission Operations programme.
She holds several records for female space travellers including, the longest spaceflight for 195 days and completion of four spacewalks within a total time of 29 hours and 17 minutes.
Williams is the second woman of Indian heritage next to Kalpana Chawla to have been selected by Nasa for a space mission back in 2006. Her first launch to ISS was in 2006 when she was sent with STR-16 aboard the shuttle Discovery to join Expedition 14 crew.
She was a flight engineer and completed four spacewalks in record time beating the previous record held by a woman. STS-117 mission aboard "Atlantis" spacecraft was sent into space to bring Sunita back to earth on April 26, 2007.