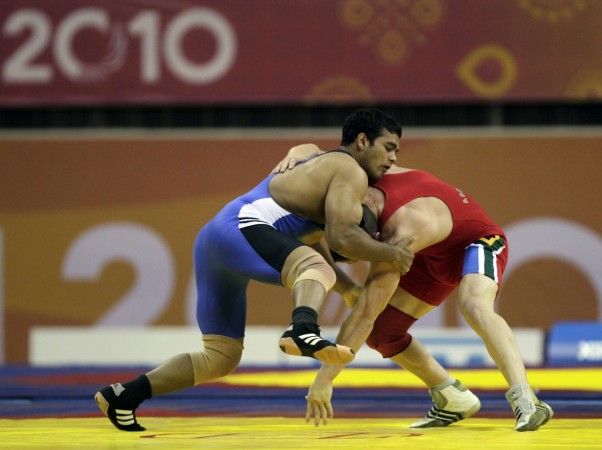 The tug of war to decide who would represent India in the 74kg freestyle wrestling event in Rio Olympics 2016 continued on Friday at the Dehi High Court. However, there is still no concrete verdict on who, between Sushil Kumar and Narsingh Yadav, will make the cut.
Sushil, a two-time Olympics medallist in amateur wrestling, had moved the Delhi High Court seeking a trial between Narsingh and him to decide who was the better man to represent the Olympics this year. However, on Friday, the judicial body couldn't give a firm verdict and the hearing of the case will resume on May 30.
The Wrestling Association of India (WFI), meanwhile, has stood firm and told the court that Narsingh, 26, deserved to go to Rio de Janeiro for the mega sporting event since he is the one who booked the berth for the nation in the wrestling event.
"The respondent number 5 (Yadav) has been found to be the best wrestler to represent India in the upcoming Olympic games. The selection has been made in a completely fair and transparent manner. No allegation of any bias, favouritism or any other prejudice have been made in the petition," WFI was quoted by the Press Trust of India as saying in its affidavit filed in court.
The WFI also said Sushil, 33, won two gold medals in the Olympics in the past in the 66kg freestyle wrestling category. However, over the years, Narsingh had proved to be a better performer in the 74kg freestyle wrestling category, although he hasn't won an Olympic gold so far.
Sushil moved up his weight class to avoid clashing with Yogeshwar Dutt, who also wrestles at 66kg.
Senior advocate Nidesh Gupta, who appeared for Narsingh in the court on Friday, said a trial between the two wrestlers would take away the glory his client achieved last year. Narsingh won a bronze medal in the Men's 74kg Freestyle category in September last year during the World Championships in Las Vegas, and in the process also won a berth for India in the Rio 2016.
"If a trial is conducted today, the qualification events would be rendered meaningless," Narsingh's advocate said.
The WFI also seconded Gupta and said nowhere in the world does an Olympics quota winner not get a chance to represent his country in the sporting event.
"Till date, there has not been even a solitary instance in India or to the best of our knowledge, even in the world, that the person who has won a quota for his country has not been sent for the Olympics," the WFI's counsel said. "It is the prerogative of the country to send wrestler for a event.
"The above facts make it abundantly clear that the performance of Narsingh Yadav has been far better than that of the petitioner and he is the most suitable wrestler to represent the country in the category in question for Rio Olympics 2016."