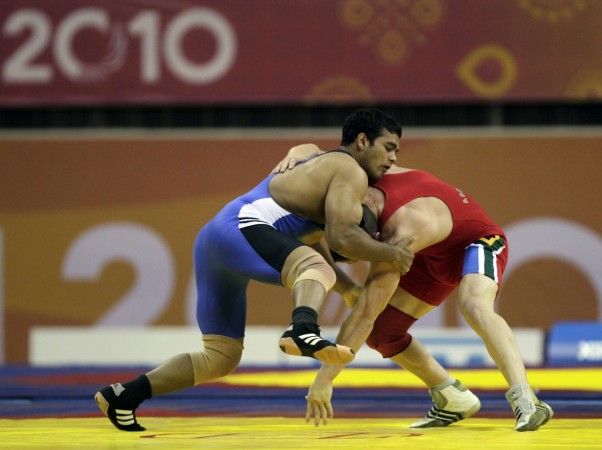 The Wrestling Federation of India has lent their support to wrestler Narsingh Yadav, who tested positive for a banned substance -- methandienone -- leading to serious doubts about his participation in Rio Olympics. The WFI is of the opinion that the grappler is innocent.
With the wrestler failing the dope tests, the WFI also did not allow the athlete to travel to Georgia for training-cum-competition programme along with the other wrestling contingent. He has been provisionally suspended as well.
After being widely reported about his failed doping, Narsingh spoke about it, claiming that it was a conspiracy against him and he had not taken any such banned substance. The WFI also believes in the wrestler, who had a clean image when it came to dope tests.
"It is our duty to protect Narsingh and all our wrestlers. Narsingh's record is clean. He is someone who never shied away from dope tests. Narsingh complained in writing to us that a conspiracy has been hatched against him and I and the entire nation believe him because he has nothing to do with the substance," Press Trust of India quoted WFI president Brij Bhushan Sharan Singh as saying.
"The federation believes Narsingh is innocent. I will try my level best to help Narsingh get out of this problem so that he can represent India in 74kg in the Olympics and win a medal."
Nrasingh's fate will only be known on Thursday as the NADA committee is looking into the matter and a final hearing is scheduled to take place on Wednesday.
"The NADA committee formed to hear the case will hold its final hearing on Wednesday. I hope they will examine all aspects and on Thursday I hope we will get the clear picture," he said.
But if the hearing goes against Narsingh, India, in all probability, will not have any representative in the 74 kg category in Rio as the last date entry is already over. There is a case of replacements on medical grounds, but with Narsingh's issue related to doping, India will have to suffer the punishment as well.