Nargis Fakhri is not a happy person right now. The Rockstar actress has accused websites for allegedly body-shaming her in their article which boasted about her being pregnant with her rumoured boyfriend Matt Alonzo's child. Alonzo is an American director, video editor and a filmmaker who has created award-winning visual work with musical artists, brands and companies.
The actress slammed the websites and its reporter left, right and centre for spreading false news about her pregnancy and demanded a apology for body-shaming her.
Nargis Fakhri looked a bit chubby during recent outing in a loose dress which apparently added fuel to the speculations of her being pregnant and as if she was trying to hide her baby bump.
This particular false news didn't go down well with Nargis and vented out her anger in a series of tweets.
"This is messed up. How can you write totally fake news & insulting me cuz I've gained weight- you are body shaming me. Whom ever wrote this has no idea &every word in this is a lie. Get your facts checks," Nargis tweeted adding that the journo had not only published lies but also "shamed a person that may actually be suffering from an illness."
Take a look.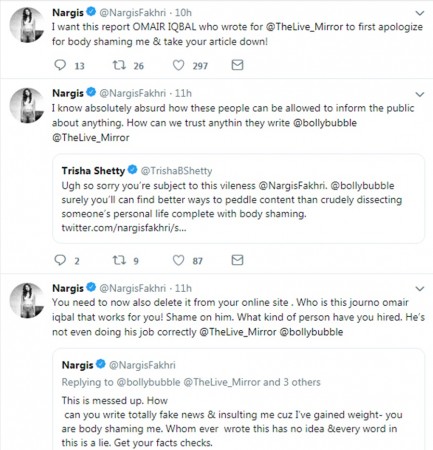 Take this down @TheLive_Mirror your reporter published lies & not only that he has also body shamed a person that may actually be suffering from an illness. Get your facts right before u publish. pic.twitter.com/9l7mlcFMv3

— Nargis (@NargisFakhri) January 12, 2019
This is messed up. How can you write totally fake news & insulting me cuz I've gained weight- you are body shaming me. Whom ever wrote this has no idea &every word in this is a lie. Get your facts checks. — Nargis (@NargisFakhri) January 11, 2019