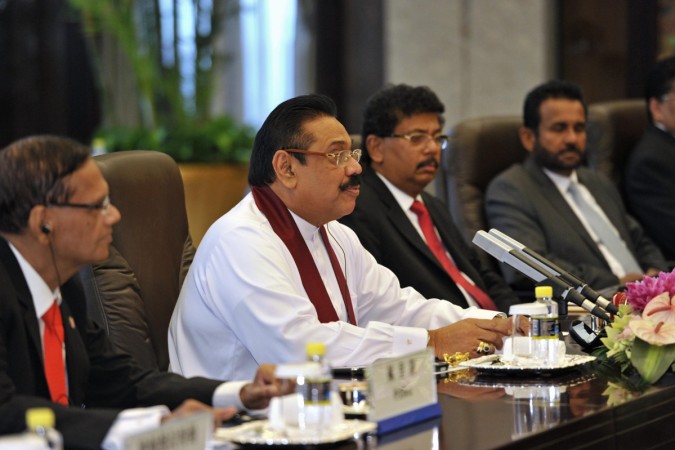 In what appears a desperate attempt, to counterbalance the opposition of some leading Tamil Nadu politicians against his upcoming visit to Delhi, Sri Lankan President Mahinda Rajapaksa has invited the leader of the island country's Tamil province to come along with him, to Indian PM-designate Narendra Modi's oath-taking ceremony.
The move, which has been dubbed as a big step towards reconciliation in his own country as well as defusing anger among Indian Tamil parties over his visit, comes as AIADMK and BJP's Tamil Nadu ally MDMK opposed the Lankan president's presence at Modi's swearing-in, scheduled to take plane on Monday.
Rajapaksa has invited the Chief Minister of Lanka's Tamil provinces to join his delegation to India, as reports from Tamil Nadu confirmed that Modi's invitation to Rajapaksa has upset regional parties in the state.
CV Wigneswaran, the Chief Minister of Northern Province, is yet to confirm if he will join Rajapaksa's delegation, though Sri Lankan officials say they are "hopeful", according to NDTV.
Meanwhile, DMK chief M Karunanidhi on Friday also echoed the mood in Tamil Nadu over the issue, saying that the Lankan president's participation in the event is "unacceptable to Tamils", reports Hindustan Times.
This have been increasing speculations that Tamil Nadu Chief Minister and AIADMK leader J Jayalalithaa may skip Modi's swearing-in due to Rajapaksha's presence.
On Thursday, Jayalalithaa described the move to invite Rajapaksha as "unfortunate". Modi's invitation to Rajapaksa has "deeply upset the people of Tamil Nadu and wounded their sentiments," she said, adding: "Particularly, with regard to the relationship of the new Central Government with the Government of Tamil Nadu, it would have been better if this ill-advised move had been avoided."
Jayalalithaa had remained silent on the issue for sometime, raising speculations among other party members. The TN Chief Minister, who reportedly enjoys good rapport with Modi, has not yet clarified if she would attend Monday's ceremony.
India's relationship with Sri Lanka has always been shaped by the domestic politics of Tamil Nadu, over the rights of ethnic Tamils in the Sinhala-majority island nation.
In 2009, the Lankan military defeated the Liberation Tigers of Tamil Ealam (LTTE) and ended the infamous civil war that lasted for 26 years. Most political parties in Tamil Nadu accused Rajapaksa of spearheading the killings of civilians, in the final stages of the war against the Tamil separatist outfit.
But Modi enjoys a BJP majority in Parliament and is not dependent on Tamil parties to run the government. He is free to follow a more independent policy on Sri Lanka - much to the chagrin of Tamil leaders.
Rajapaksa was among the first world leaders to reach out to Modi and congratulate him on his massive victory.