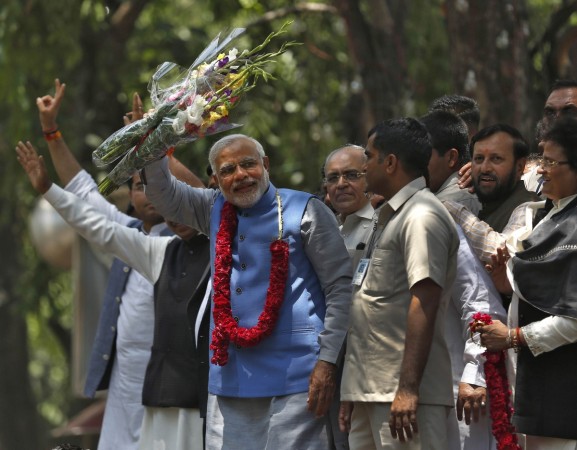 With the Bharatiya Janata Party (BJP) and its allies convincingly winning the 16th Lok Sabha elections, it's just a matter of time before Narendra Modi becomes India's next Prime Minister. The PM-elect's swearing-in ceremony is expected to take place anytime next week though the date is not confirmed yet.
The BJP president Rajnath Singh said that the party would formally elect Modi as its leader at its parliamentary board meeting on 20 May. Modi will take the oath as the PM of world's largest democracy only after the party announces his leadership on Tuesday.
It is just a formality for the BJP to declare its choice as the country's next Prime Minister, as Modi was declared as its candidate for the top post well before the elections. The party rode on the former Gujarat Chief Minister's popularity this general elections, which resulted in a thumping win.
It is reported that the new Members of Parliament (MPs) will take the charge on 27 May.
The BJP got the mandate from the people of the country on Friday, winning 282 seats out of 543 as against the ruling party, Indian National Congress' 44, according to the data published by the Election Commission of India. The last time a single party won this kind of majority in the parliament was 30 years ago.
The party can form the government at the centre on its own after having crossed the 272-seat mark needed for a majority, but Rajnath Singh said that they would invite all its allies in the National Democratic Alliance (NDA) to thank them for the win. The fact is that they will need the support of its allies and other parties in the Upper House or Rajya Sabha, as it's strength there is only about one fifth.
Modi, 63, who is instrumental in the BJP's biggest win ever, dispelled concerns among certain communities by saying that he would take all Indians with him in letter and spirit.
The 2002 Gujarat communal riots that killed at least 1,000 people happened when Modi was the Chief Minister of the state, so there is mistrust and a sense of fear among people from certain communities. He has been accused of not doing enough to stop the violence, but the Supreme Court has cleared him of the case.