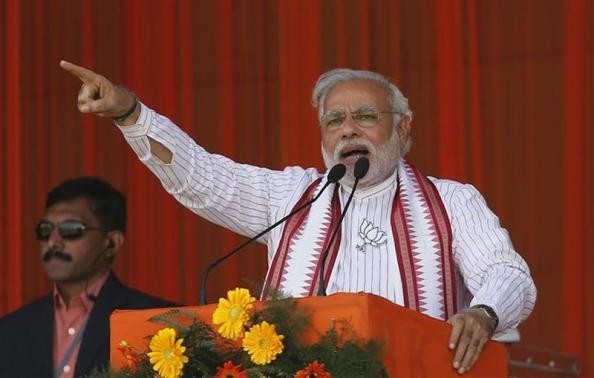 Assam Chief Minister Tarun Gogoi is going to recommend Narendra Modi's wife Jashodaben Modi for the honour of Bharat Ratna, the highest civilian award given by the Government of India.
Jashodaben has been figured in the election nomination of the Bharatiya Janata Party's (BJP) prime ministerial nominee. In the wake of Jashodaben figuring in the nomination, there was a lot of enthusiasm all over the country over Modi's marital status as he was known to be a bachelor hitherto.
The Gujarat CM has mentioned Jashodaben as his spouse in the election nomination papers for the first time but ignored other details, like her income.
Describing Jashodaben as the embodiment of Indian womanhood and sacrifice, Gogoi on 13 April stated that while Modi is the "power hungry" sanyasi, his wife is the real sanyasin.
When Modi deserted her about 50 years ago to achieve his dreams, she spent a secluded life, and followed her husband's advice and studied further to get a teacher's job. Now she is retired and is understood to be getting pension. She is said to be living a life of virtues in anticipation to reunite with Modi.
The Assam Chief Minister told the media that he will write to the Government of India to bestow the highest civilian award to Jashodaben, considering the sacrifice she made for Modi.
Gogoi also made it clear that the Congress has not made Modi's marital status an election issue. The issue would not have any impact on the election outcome. "It is not an election issue, it is a human issue," PTI quoted the Assam CM.
According to media reports, Jashodaben married Modi in 1968 when he was 17 years old. She studied up to SSLC and started working as a schoolteacher. When she retired in 2011, she settled in the Rajosana village in Gujarat. Now after the episode of Modi naming her in his poll nomination papers, Jashodaben is reported to have been offering prayers that Modi should become the next Prime Minister of India.
(Ed: VP)