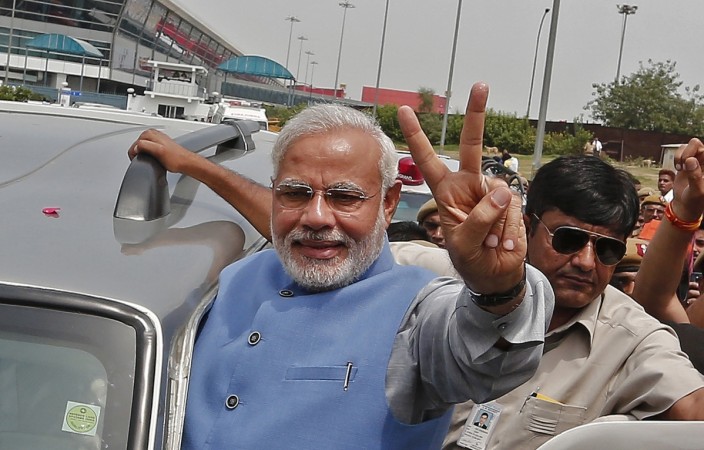 BJP leader Narendra Modi is all set to be sworn in as the 15th Prime Minister of India in a grand ceremony to be held at the forecourt of Rashtrapati Bhavan, New Delhi, on Monday.
Ahead of being sworn in as the next prime minister, Modi visited Rajghat on Monday and paid homage to Mahatma Gandhi. Several BJP leaders including Vijay Goel and Vijender Gupta were also present at Rajghat. After spending 10 minutes at Gandhi's memorial, Modi left for Atal Bihari Vajpayee's residence to seek his blessings.
Swearing in Ceremony
President Pranab mukherjee will administer Modi and his ministers' taking oath of office in the presence of around 3,000 guests including several foreign dignitaries, SAARC leaders - Pakistan Prime Minister Nawaz Sharif, Afghanistan President Hamid Karzai, Bhutan Prime Minister Tshering Tobgay, Nepal Prime Minister Sushil Koirala, Maldivian President Abdulla Yameen Abdul Gayoom, Bangladesh Speaker Shirin Chaudhury and Sri Lankan President Mahinda Rajapaksa.
Indian political leaders including newly-elected MPs, Congress leader Sonia Gandhi and Vice-President Rahul Gandhi, out-going Prime Minister Manmohan Singh and chief ministers of a number of states will be attending the ceremony.
Since the Sir Lankan president is attending the grand function, Tamil Nadu chief minister Jayalalithaa is likely to skip the ceremony. MDMK leader Vaiko has reportedly declared that he will protest the presence of the Sri Lankan President.
Modi's mother Hiraben is expected to attend the grand function on Monday evening.
Security Arrangements
In the wake of the presence of several VVIP guests, security has been beefed up at the national capital. Five-tier security has reportedly been arranged in Delhi. As many as 6,000 security personnel including the elite Special Protection Group (SPG) and para military personnel have been deployed in and around the Rashtrapati Bhavan to secure the place.
The route leading to the North Block and South Block will be cordoned off on Monday and Section 144 (Joining unlawful assembly armed with deadly weapon) will be imposed in the wake of the grand swearing-in ceremony, reported IBNLive.
"Snipers will be positioned on top of building, skyscrapers and air defence mechanism will be in place," Delhi Police Joint Commissioner MK Meena told the TV channel.
Immediately after the sworn-in ceremony, the SPG will take over the security of Narendra Modi from the National Security Guard. His cavalcade will include a dozen bullet-proof vehicles, half-a-dozen BMW X3s, two customised BMW Series 7 sedans and a Mercedes Benz ambulance, reported the Hindu.
The SPG will also provide security to Modi's mother Hiraben and his wife Jasodaben.
Narendra Modi's cabinet
With just few hours left for the swearing-in ceremony, the focus is on the new cabinet which will be a smaller one.
The office of Prime Minister-designate had reportedly indicated on Sunday night that Modi will be clubbing ministers for smarter governance. A note from Modi's secretariat said that the 15th Prime Minister of India will be adopting a guiding principle of "Minimum Government and Maximum Governance."
"It is a good beginning in transforming entity of assembled ministries to organic ministries. It will bring more coordination between different departments, will be more effective and bring a speed in process," the statement said.
BJP President Rajnath Singh is likely to be given the post of Home Minister in Modi's cabinet. Arun Jaitley is reportedly the front runner for the Finance Minister post, whereas Sushma Swaraj is expected to be chosen as the Ministry of External Affairs. Arun Shourie is likely to become the government advisor or deputy chairman of the Planning Commission.
Ravi Shankar Prasad might be the Information and Broadcasting Minister, while Nripendra Mishra will take over as the Principal Secretary to the Prime Minister. Kalraj Mishra is likely to be the HRD Minister and Nitin Gadkari might take over important infrastructure ministries. Ananth Kumar, Menaka Gandhi and Venkaiah Naidu are likely to get cabinet berths, sources told IBNLive.
There are reports suggesting that General VK Singh, Nirmala Sitharaman and Dharmendra Pardhan might also get cabinet berths.
LK Advani has reportedly expressed his wish to be the lok sabha speaker, but reports are suggesting that BJP MP from Indore Sumitra Mahajan is the front runner for the post. It is also being said that Modi is unlikely to have ministers older than the age of 75. This has raised speculations as to whether senior leaders like Murli Manohar Joshi (80) and Advani (86) will get any cabinet berths.
Modi has reportedly sent the list of probable cabinet ministers to President Pranab Mukherjee.