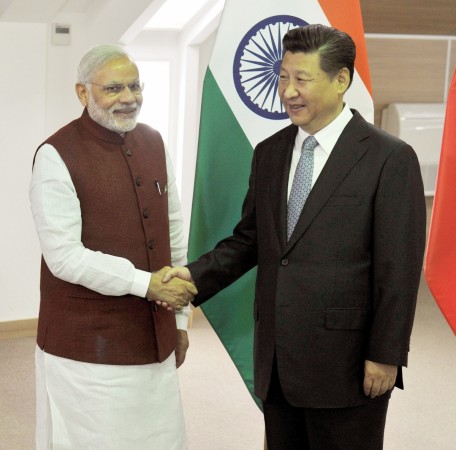 Prime Minister Narendra Modi on Thursday said he had a comprehensive meeting with Chinese President Xi Jinping and both of them are "strongly committed" to take bilateral ties to "new heights". Speaking in favour of old friend Russia, Modi also said that "unilateral sanctions" were hurting the global economy as he expressed concern over the sanctions imposed on Russia in the wake of Ukraine crisis.
Modi's friendly gesture towards generally the hostile neighbour comes a day after he raised concerns over China's move to block action in the United Nations against Pakistan over 26/11 Mumbai terror attacks mastermind Zakiur Rehman Lakhvi's release.
The two leaders met on Wednesday night on the sidelines of BRICS (Brazil, Russia, India, China and South Africa) and Shanghai Cooperation Organization (SCO) summits in the south-western Russian city of Ufa.
During his meeting with Xi, the Indian prime minister "strongly" and "clearly" conveyed concerns to him over China blocking a proposal for action by the UN against Pakistan over the release Lakhvi from a Pakistani jail. The two sides agreed that the issue needed further discussion. He reportedly also voiced concerns over the $46 billion economic corridor that China is building with Pakistan as it crosses Pakistan-occupied Kashmir, which India considers its part.
According to reports, in his post on Chinese social media platform Weibo on which he opened an account ahead of his China visit in May, Modi said on Thursday: "I met President Xi Jinping once again, this time in Ufa, Russia where we both are attending the BRICS and SCO Summit."
"Our meeting was very comprehensive and several issues were discussed, both about India-China ties and global affairs. Both of us are strongly committed to taking India-China ties to new heights and increasing our economic, cultural and people-to-people relations," PTI quoted Modi as saying.
It was the fourth bilateral meeting between Modi and Jinping since their first in Fortaleza, Brazil in July 2014. The meeting in Brazil was followed by visits by Jinping and Modi to each other's countries and hometowns in 2014 and 2015 respectively.
Modi voices concern over unilateral sanctions
Meanwhile, Modi on Thursday pitched for stronger and deeper cooperation among the BRICS members amid rising global economic concerns. He made a veiled attack on the US and some European countries which have imposed sanctions on Russia over its alleged role in the Ukraine crisis.
"Unilateral sanctions are hurting the global economy. So it is very essential that BRICS economies deepen their cooperation. BRICS should also work with other developed regions," Modi reportedly said in his address at the BRICS Business Council meeting in Ufa.
"The global economy currently is not strong. Even prominent developed economies like Europe are in crisis. Financial markets are unstable," Modi said in the presence of Russian President Vladimir Putin, his Brazilian counterpart Dilma Rousseff, South Africa's Jacob Zuma and Jinping.
The Indian prime minister said that BRICS countries together formed 44 per cent of the world population and contributed 40 per cent to the global GDP. There are many similarities and resources among the BRICS nations, like agriculture, manufacturing, technology, services, human resources, sustainable development, he noted.