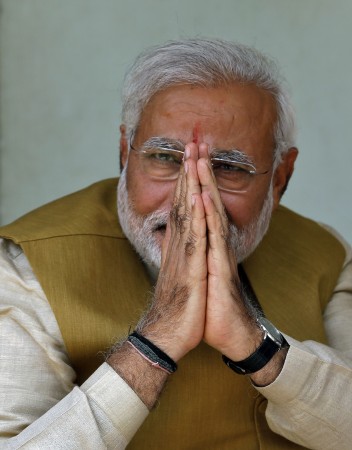 Prime Minister-designate Narendra Modi will resign as Gujarat chief minister on Wednesday at 3.30 p.m.
Modi, who has been the chief minister of Gujarat since 2001, will attend a special session of the state assembly, before submitting his resignation to Governor Kamla Beniwal.
On Tuesday evening, Modi delivered his first speech after being formally appointed as the leader of BJP parliamentary party. Later in the afternoon, he met President Pranab Mukherjee and was appointed as the next Prime Minister of India. He will be sworn in as the Prime Minister on 26 May at 6 p.m.
"I came to call on the President. The President has given me a formal letter (of appointment as the PM) and has invited me for oath-taking ceremony on May 26 at 6pm as we had earlier decided," Modi told reporters," according to Hindustan Times.
The Gujarat strongman reached the state on Tuesday evening after addressing the newly-elected MPs of the National Democratic Alliance (NDA). He will attend the one-day special session of the Gujarat assembly and resign from his post as the Gujarat CM.
After the session, the BJP legislature party will meet and elect the chief minister of Gujarat. Senior Gujarat minister Anandiben Patel is the front runner in the race to become the next CM. Others in the running are general secretary of BJP's Gujarat unit Bhiku Dalsaniya, finance minister Nitin Patel, and energy and petrochemical minister Saurabh Patel. Apparently, she is Modi's final choice to succeed him as the next CM.
Patel is expected to be formally anointed as the next Gujarat CM in the meeting on Wednesday. If she is elected, she will be the state's first woman to take the CM's post. It was apparent that she would succeed Modi, when she was chosen as the chairperson to lead the group of ministers set up to run the government in the absence of Modi while he was campaigning for the Lok Sabha Polls.
The 72-year-old senior BJP leader is at present the minister for revenue, roads and buildings and urban development.