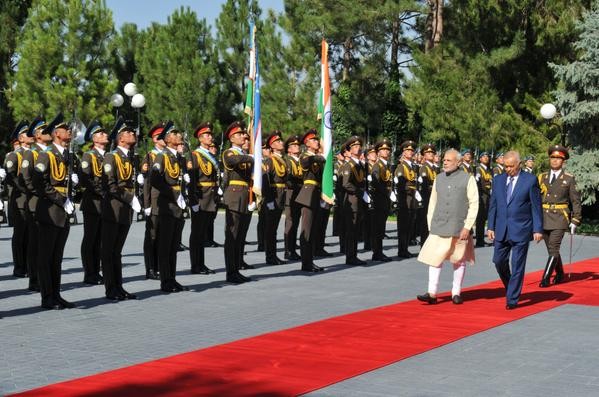 Soon after arriving in Tashkent as part of his trip to five central Asian nations and Russia, Prime Minister Narendra Modi on Monday held meetings with his Uzbek counterpart Shavkat Miromonovich Mirziyoyev and President Islam Karimov.
The first meeting was held at the airport after PM Mirziyoyev welcomed Modi on his arrival.
The Prime Minister's Office (PMO) tweeted about the meeting: "The meetings begin instantly...PM @narendramodi meets PM Shavkat Miromonovich Mirziyoyev after landing at Tashkent."
Earlier, the PMO tweeted thanking Mirziyoyev "for the warm welcome" as Modi greeted people of Uzbekistan with a "hello".
Hello Uzbekistan! I thank PM Shavkat Miromonovich Mirziyoyev for the warm welcome in Tashkent. Wonderful being here. pic.twitter.com/ixrBA0KjZ0

— Narendra Modi (@narendramodi) July 6, 2015
Later, Modi held a "restricted meeting" with Uzbek President Islam Karimov.
PM in restricted meeting with President of Uzbekistan, H.E. Mr. Islam Karimov at Kuksaroy Complex, Tashkent pic.twitter.com/ci0WAsb89s — PIB India (@PIB_India) July 6, 2015
Modi presented Karimov Khamsa-e-Khusrau, a creation of great Indian Sufi musician and poet Amir Khusrow or Amir Khusrau.
PM Shri @narendramodi's gift to President of Uzbekistan, H.E. Mr. Islam Karimov pic.twitter.com/sxJNNpwSys

— PIB India (@PIB_India) July 6, 2015
"A bond of several millennia. Ceremonial welcome by President Karimov for PM @narendramodi at the Kuksaroy Complex," ministry of external affairs spokesperson Vikas Swarup posted on Twitter.
"Important issues at hand. A quiet tete-a-tete between the two leaders before delegation level talks begin," Swarup tweeted next, followed by another post: "And a full review of bilateral relations in progress. The delegations in session led by the PM and the President."
Uzbekistan is the first leg of Modi's eight-day tour to central Asia and Ufa in Russia where he is slated to attend the BRICS summit.