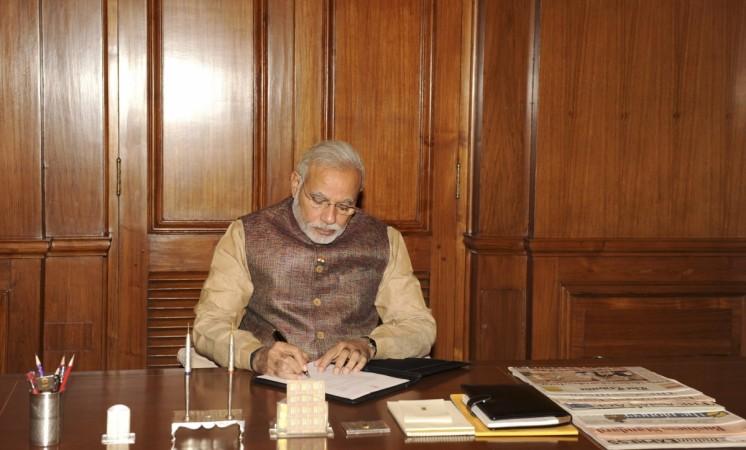 Prime Minister Narendra Modi on Wednesday met and held discussions with the secretaries of all the ministries and senior officials of the government departments.
This is the first time such meeting has taken place after more than eight years. It is also the first time that a Prime Minister interacted with the secretaries without the presence of the cabinet ministers.
In the meeting held for nearly two and a half hours, Modi urged the officials to get in touch with him directly in a bid to speed up decision making.
The Prime Minister encouraged the bureaucrats to "simplify and streamline the administrative rules and procedures to make them people-friendly. He emphasized the need for a team spirit and urged the Secretaries to be leaders of their teams. He also encouraged the officers to take decisions and assured them that he would stand by them. He added that in the process of governance, ideas should be converted into institutions because institutions last longer than individuals," read a press statement from the Prime Minister's Office.
The meeting was scheduled to take place on Tuesday, but was postponed by a day owing to the sudden demise of rural development minister Gopinath Munde in a road accident.
As many as 77 bureaucrats including Home Secretary Anil Goswami, Finance Secretary Arvind Mayaram, Defence Secretary Radha Krishna Mathur and Foreign Secretary Sujatha Singh were called for the meeting.
According to reports, 16 groups were formed clubbing all the related ministries. For instance, all the finance ministry departments have reportedly been formed as one group. Earlier, the secretaries were asked to prepare a 10-slide presentation to brief about the successes and failures of the last government as well as the points of action for the next five years. However, Wednesday's meeting was more of an interaction and the presentation will reportedly take place later.
During the meeting, the PM stressed "that the process of governance of his government should begin with cleaning-up of the offices, improving the workplace, which would automatically result in a better work culture and efficient services to the citizens."
He also emphasized on the use of technology for efficient and effective administration. He added that "in a democracy, redressal of citizens' grievances is very important, and information technology can help greatly in this regard." Modi also stressed that only through collective action, faster results can be achieved. He expressed complete faith in commitment and competence of the bureaucrats to build a better future for the country.