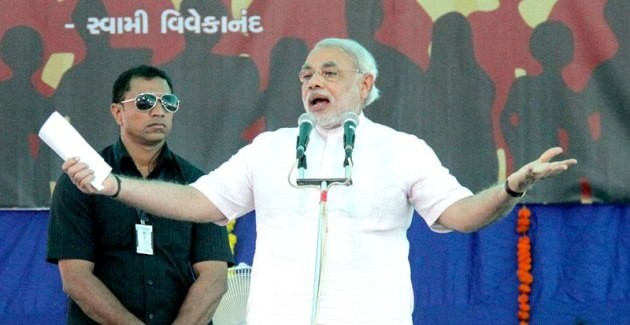 Gujarat Chief Minister Narendra Modi may be the most popular front-runner in the upcoming Assembly elections. However, the BJP strongman has fallen short in the eyes of US lawmakers who are strongly opposed to him setting foot in their country.
According to Press Trust of India, 25 members of the US House of Representatives have sought visa denial for Modi, saying that his government had not delivered justice to the victims of the 2002 Gujarat massacre. Around 2,000 people were killed in the communal riots, with accusations pointing to Modi for allowing violence to continue. He was given a clean chit by the Supreme Court due to lack of evidence.
Putting a question mark over Modi's involvement in the case, US Congressmen dispatched a letter last week to Secretary of State Hillary Clinton urging her to continue denying him entry into the US.
The letter, released by Republican Congressmen Joe Pitts and Frank Wolf to the press on Monday read: "As Mr Modi continues to pursue a potential run for higher office, we believe a change in policy to his request for a visa will only embolden Modi and his government's efforts to obstruct further investigations and the tandem prosecution that have still to be finished to bring the perpetrators to justice,"
Addressing relatives of the riot victims on the eve of a joint press conference in Washington, the Congressmen said, "India is a thriving democracy, and one that is aspiring to a high standard of leadership and progress. It is disturbing that certain parties in India are considering elevating Modi, despite his tie to these attacks. Allowing him to enter the United States will only serve to abdicate his responsibility for the 2002 human rights abuses," reported PTI.
Taking note of Modi's prime ministerial aspirations and his efforts in meeting foreign leaders, the lawmakers said that he may seek entry into the country again.
This was not the first time lawmakers have urged the government to deny visa to Modi. He was first declared ineligible to get US entry in 2005 and since then the government has strongly adhered to its visa policy.
The issue could cause a major setback for Modi in his competency to become prime minister of India. Amid growing support from several party leaders to his candidature for the top post, the ruling Congress Party has ruled out the possibility of him ever becoming the prime minister.
"The BJP-led alliance will not come to power again in the Center, and therefore there is no chance for Modi to become the Prime Minister," Captain Praveen Davar toda, member of All India Congress Committee (AICC), told PTI on Monday.