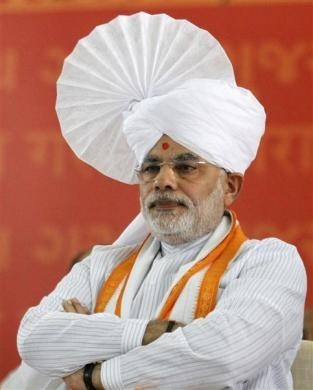 Gujarat chief minister Narendra Modi has been declared as BJP's poll panel chief for the 2014 Lok Sabha elections, despite alleged displeasure over the decision by a faction of the party leaders led by LK Advani.
The crucial announcement was made by BJP Chief Rajnath Singh, accompanied by Arun Jaitley and Sushma Swaraj, towards the end of the two-day national executive meet held in Goa. Sushma Swaraj who had opposed the idea of Modi's anointment, chose to attend the meeting.
However, Advani and some senior leaders including Jaswant Singh, Yashwant Sinha, Uma Bharti and Shatughan Sinha had skipped the Goa conclave, as they were reportedly opposed to Modi's elevation. This is the first time that Advani had skipped the executive meet since BJP's inception in 1980.
The absence of Advani and other senior leaders had earlier raised doubts on whether the party would go ahead and announce Modi as the election committee chief. However, the Rashtriya Swayamsevak Sangh (RSS), the parent body of the BJP, had instructed the party to make the announcement on Modi's new role before wrapping up the conclave in Goa.
Addressing the party members at the conclave, Rajnath Singh said, "Every political party treats elections as a big challenge. Keeping the campaign in mind, I have appointed Gujarat Chief Minister Narendra Modi as the campaign committee chairman," according to a private channel.
The announcement was received with cheers and standing ovation by BJP cadres. Modi later tweeted, "Senior leaders have reposed faith in me. We will leave no stone unturned for Congress Mukt Bharat Nirman. Thanks for support & blessings. Spoke to Advani ji on the phone. He gave me his blessings. Honoured and extremely grateful to receive his blessings."
Advani had earlier proposed to set up two election committees for the state and the national polls, respectively. The BJP patriarch had suggested that Modi could lead the team focusing on national polls and former BJP president Nitin Gadkari could lead the other team focussing on the party's electoral battle in the assembly polls to be held in five states this year.
Advani had proposed the idea so as to show Modi as one of the key leaders of the party, but not the most prominent one. However, the proposal was rejected by the BJP citing that it might cause confusion among voters.