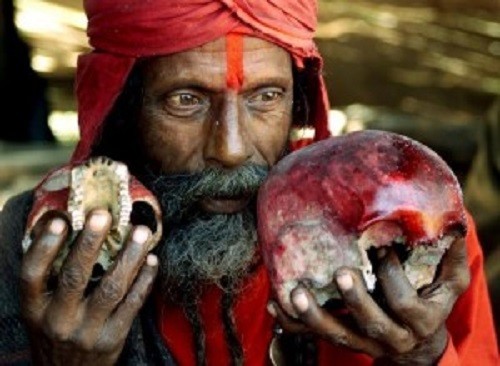 Angry protests and strikes by students and political parties over the murder of rationalist Narendra Dabholkar, who had campaigned for 18 long years against superstitious religious practices in the country, prompted the Maharashtra cabinet to clear an ordinance on the 'Anti-superstition and Black magic Bill' on Wednesday.
Furious protesters had come out on the streets of Pune, Satara and Sangli on Wednesday to condemn the murder of the late activist. In fact, the whole city of Pune was shut down as political parties called for a bandh.
The Maharashtra cabinet cleared the bill which was pending for over a decade.
Here are some of the superstitious acts which are punishable under the Act:
Performing Karni or Bhanamati (both are part of black magic remedies)
Offering Talisman, ash or charms for exorcism or to drive out 'evil spirits/ghosts (Followed extensively in the past and shown time and again in Bollywood films)
Claiming that one possess supernatural powers or advertising them through some medium
Claiming mentally-ill patients as possessed with evil spirits and punish or beat them
Dabholkar was the frontrunner and relentlessly campaigned for such a bill to be passed during his lifetime. He had written books on eradicating superstition from the society and and was an editor to a Marathi weekly 'Sadhana'.
Maharashtra Chief Minister Prithviraj Chavan attended his funeral in Satara on Wednesday and referred his murderer possessing a 'Godse like mindset'. On 30 January, 1948, Mahatma Gandhi was murdered by a Hindu activist, Nathuram Godse. Godse opposed Gandhi's teachings, especially those of non-violence.
Dabholkar was shot in the head and chest while he was out for a morning walk near Omkareshwar Temple in Pune on Tuesday.
There's an ongoing manhunt for the killers. The government released a sketch of a nearly 25-year-old man and announced a ₹10 lakh reward for anyone who provides information regarding the wanted.
"We rationalists struggle like this every day, but we should not be put down by such things. Instead we should see this as an inspiration to push harder for our beliefs," Indian Rationalist Association President Sanal Edamaruku told CNN-IBN in an interview.