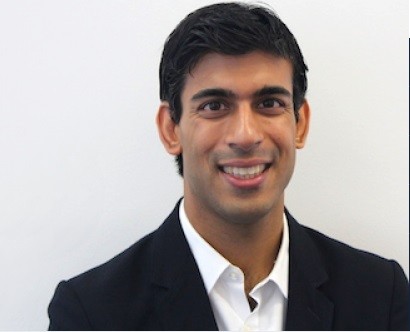 Rishi Sunak, a Conservative party candidate for the upcoming UK elections in May, is expected to make his way into the British parliament from the Richmond constituency in North Yorkshire, years after his father-in-law Narayana Murthy had rejected former Indian Prime Minister Atal Bihari Vajpayee's offer to join the government in 1999.
Sunak is expected to step in the shoes of former foreign secretary William Hague, who had held the Richmond seat till he stepped down last July.
With studies showing that the Conservatives are likely to have more MPs from ethnic minorities in the next parliament compared to the Labour party, which will be a first, Sunak is said to be leading the race among these MPs, according to the Press Trust of India.
The Tories, as the Conservatives are colloquially called, are expected to see 19 ethnic minority members in the Parliament, over the Labour's estimate of 16, and Sunak is considered the most high-profile Indian origin candidate for the 7 May election.
A graduate from Winchester College, Oxford University and Stanford University, Sunak - who is married to Murthy's daughter Akshata - says he "wants to make a positive difference to people" as his parents did, according to his website.
"I grew up watching my parents serve our local community with dedication. My dad is a NHS family GP and my mum ran her own local chemist shop. As an MP, I want to make that same positive difference to people here and I now live in Kirby Sigston, just outside Northallerton," Sunak says in his website's "About Me" section.
"From working in my mum's tiny chemist shop to my experience building large businesses, I have seen first-hand how politicians should support free enterprise and innovation to ensure our future prosperity," he continues.
If elected, Sunak says he will boost small and medium local businesses, having co-founded a 1-billion pound global investment firm and then invested in a number of small businesses in the UK.
He is also expected to push his views on immigration.
"If people want to come to our country they need to speak our language and they need to respect British values and not try to undermine them," he had told the Darlington and Stockton Times.
The Hampshire-born MP hopeful lives with his wife and two daughters Krishna and Anoushka, and '"cricket, football and movies", and has revealed in interviews that he is a Southampton FC supporter and a Star Wars fan.
Sunak's venture into politics is a far cry from his father-in-law's outlook.
Infosys co-founder Narayana Murthy had reportedly refused to take up a position in the Indian government in 1999, citing indiscipline and lack of meritocracy in Indian politics.
"I was offered a position in 1999 by Sri Vajpayee, but I was not interested. I don't know whether I can succeed in an environment where people are not disciplined; where people don't believe in meritocracy and where people put their own interests ahead of the societal interest," Murthy had told Business Standard in 2010.