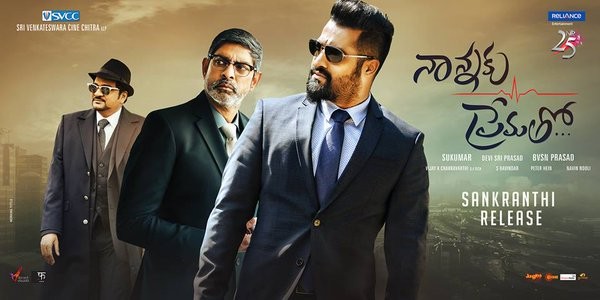 Junior NTR and director Sukumar's first combo movie "Nannaku Prematho" (also spelt "Naanaku Prematho") has received positive reviews and decent ratings from film critics.
Photos: Pawan Kalyan's Sardaar Gabbar Singh new posters released
"Nannaku Prematho" is about Abhiram (NTR), an NRI entrepreneur settled in London. Abhi rushes back to Palnadu after hearing that his father (Rajendra Prasad) is suffering from cancer. His father tells him he was cheated by Krishnamurthy (Jagapathi Babu), who snatched his property. He requests Abhi to dethrone Krishnamurthy. How Abhi fulfils his father's last wish forms the crux of the story.
Critics say "Nannaku Prematho" is a simple family drama film with a routine revenge story. What makes this film a good watch is its brilliant screenplay by Sukumar. The director may have picked up a tried-and-tested subject, but path he has chosen to narrate it is different. Without taking the support of commercial elements, he keeps the audience engaged with his narration in an intelligent way.
They say "Nannaku Prematho" is not a Junior NTR film, but belongs to Sukumar's style. Junior NTR, who appears in a never-before avatar in the movie, has given a brilliant performance, but the film lacks his regular heroism and masala elements. Jagapathi Babu's performance is another big highlight of the film.
"Nannaku Prematho" has brilliant production values and Devi Sri Prasad's music is the main attraction on the technical front. Sukumar's screenplay and dialogues, beautiful camera work and locations, the action and the dance sequences are other highlights of the movie, which has been rated an average 3 out 5 stars. Here are the critics' verdict and ratings in "Nannaku Prematho" the review roundup.
Though story of the film is routine, the screenplay of the film is completely different. It's a brave decision to have such a different look and characterization for NTR. It's a daring attempt to have the entire story happening in London and being true to the Thriller genre. There is a lot of mind game in this film. The screenplay is logical and makes you think all the time. However, for a simple and heart-touching title like Nannaku Prematho, we expect a simple and universally acceptable treatment. The underlying emotion of father-son gets diluted in the complex screenplay and the mind games between hero and villain. It's a great effort by Sukumar in terms of screenplay and logics (he talks about maths and physics at times). On a whole, Nannaku Prematho is a commendable concept thriller made on grand scale.
Nannaku Prematho is a film where all the unnecessary commercial aspects are put aside and the focus is on the content. NTR's solid performance and emotional content are huge assets. However, the slow pace of the film and lack of certain elements which are expected by NTR fans and mass audience will hamper the collections to an extent. Finally, Nannaku Prematho is a class act which should do well only with the A center audience.
Nannaku Prematho is entertaining but in a different way. This is not everyone's cup of tea. Sukumar chose a commercial plot but came up with different treatment with his brilliance at display. There are ample scenes where the director uses brains to entertain the audience. People who like to watch mind games and clever play between the hero and villain will like it. But this kind of films won't appeal to the masses and especially to the fans of NTR.
Sukumar has to tone down on the concepts borrowed from the sciences and mathematics and concentrate on story-telling. But we realise, a director becomes a puppet of his pet dreams and pet peeves and Sukumar is no different here – he can play himself and not to the gallery. This makes "Naannaku Prematho" a typical Sukumar film but with exceptional clarity and brilliance of performances. It is definitely watchable and a decent film to kickstart the Sankranti season. It is a worthy 25th film to NTR's catalogue of films but whether it will catch fire in the commercial sense remains to be seen.
Nannaku Prematho has an old hat theme that sadly falls short of the objectives of the film maker. Part Intellectual Revenge and Part Family Drama, the film is obviously much ambitious and yet struggles to maintain its steam as its struggles through unhurried family moments. However, there is little that comes to my mind except for prima performances by both Jr NTR and Jagapathi Babu. All in All, Nannaku Prematho offer a few promising moments, but remains quickly forgettable. Bottom Line:Nannaku Prematho - Chaos theory applied to unrealistic plot.