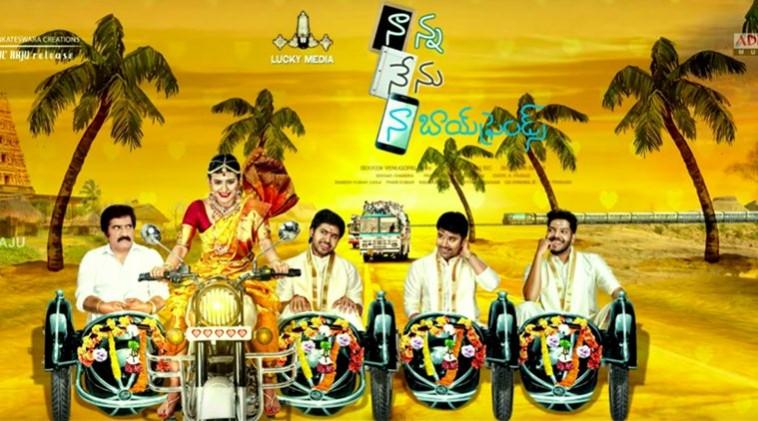 Nanna Nenu Naa Boyfriends has Hebah Patel, Tejaswi Madivada, Rao Ramesh, Parvateesam, Noel Sean and Ashwin Babu in the lead roles. The Telugu movie releases on Friday, December 16.
The movie marks the directorial debut of Bhaskar Bandi, who was a former associate of leading Tollywood filmmaker VV Vinayak. B Sai Krishna has written the story for Nanna Nenu Naa Boyfriends, which is jointly produced by Bekkam Venugopal and Manasa & Mahalakshmi. The film has Chota K Naidu's cinematography and editing and Sekhar Chandra's music.
Nanna Nenu Naa Boyfriends deals with a girl's confusion about an arranged marriage. The father of the pampered girl allows her to choose her life partner of her choice. Strangely, she fall in love with three boys. What follows next is the interesting part of the story.
The film has managed to generate decent buzz around it with its promotional contents. Will Nanna Nenu Naa Boyfriends live up to the expectations of the audience? Will VV Vinayak's protegee strikes gold at the box office in his first film? Find the answers in the viewers' words below:
Tollywood Updates: #NannaNenuNaaBoyfriends Average First Half..Good Second Half..
Above Avrg it is!!Rating : 3/5 Works Well With Masses!!
Telugu360: With lengthy sentiment scenes #NannaNenuNaaBoyfriends comes to an end. A below avg movie which may be liked by Youth/Mass to some extent.
#NannaNenuNaaBoyfriends 2nd half is running on farcical comedy which may work with mass audience. Now Entering into serious,pre climax phase
1st half Very avg. +ve : Senti Dialogues, Lil diff story,some youth elements -ve : casting , songs 2nd shud save
Shruthi HDL: #NannaNenuNaaBoyfriends #NNNB Got Below Avg Talk.1st Half - Below Avg, 2nd Half - Just AVG, Report - Below Avg to Avg, Rating - (2.5/5)
Geetha Gautham: #NannaNenuNaaBoyfriends @TejaswiMadivada Dancing, acting bang on! I so wish u were da lead actress..U wld hav taken tis 2 a different level
Rustum !!: 1st half.. Pawan Kalyan ni matram Oka range Lo vadeskunnaru routine comedy.. Oke Okka dialogue ki navvu ochindi #NannaNenuNaaBoyfriends
Rao Ramesh sentiment ekkuva aipoddi anipistundi 2nd half Lo.. Eppatike akkadakkada dragged feel ochindi #NannaNenuNaaBoyfriends
Jalapathy Gudelli: #NannaNenuNaaBoyfriends : Tedious watch. Big bore!
Mouli Mallina: #NannaNenuNaaBoyfriends liked the emotional coating of the film. Few laughs here and there.