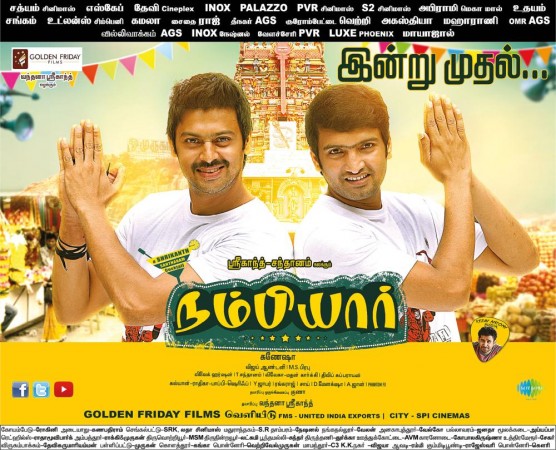 Srikanth is badly in a need of a hit. After being part of a series of flops, he is hoping that his latest movie "Nambiar" aka "Nambiyaar" will give him the much-need break. With this film, he has also turned a producer.
"Nambiar" is named after the veteran actor MN Nambiar, who was known for playing the villain in the movies of his era. For a change, the title is not the hero's name, it is his friend's, played by Santhanam in the film. Srikanth plays the role of a person named Ramchandran. He has paired up with Sunaina, who will be seen as a character named Saroja Devi.
John Vijay, Devadarshini, Jayaprakash, Vanitha Krishnachandran, Delhi Ganesh, Subbu Panchu, Vijay Anthony and others play important roles in the film. Arya and Parvathy Omanakuttan have done guest roles.
Ganeshaa, a former associate of leading South Indian filmmaker SS Rajamouli, is making his directorial debut with the movie. Vijay Antony is the music director, while MS Prabhu is the cinematographer and Vivek Harshan is the editor of the Tamil film.
"Nambiar" has managed to generate a decent hype through its trailer although the music has not lived up to the expectations of the audience.
Review:
We bring you the some viewers' comments on "Nambiar:"
Ramesh Bala: Congratulations @Samanthaprabhu2 for signing with @Siva_Kartikeyan for @ponramVVS @24AMSTUDIOS movie..
#Nambiyaar [2.75/5]: An interesting concept of one's negative thoughts being given a physical identity.. Good humour throughout..
#Nambiyaar [2.75/5]: @Act_Srikanth has done well as the guy who is caught between himself and his negative thoughts @iamsanthanam
#Nambiyaar [2.75/5]: @TheSunainaa looks good.. She has a good scope to perform as the romantic interest.. Has done well including dance..
#Nambiyaar [2.75/5]: @iamsanthanam excels with his brand of humour.. Lot of good supporting actors including #JohnVijay, #Devadharshini etc
#Nambiyaar [2.75/5]: @vijayantony songs r gud.. Dir #Ganesha has come up with an interesting concept.. Good.. But Could have been better..