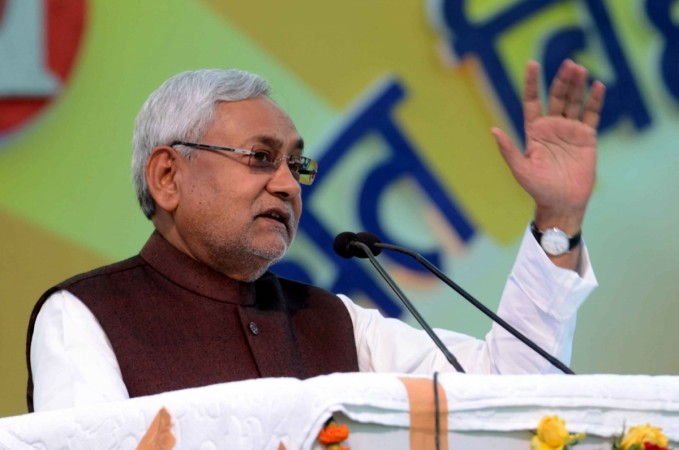 A Pakistani flag was reportedly seen hoisted atop a house, triggering anger among locals in Bihar Chief Minister Nitish Kumar's home district Nalanda.
The flag was spotted atop a house that belonged to a man called Anwarul Haq. The house is located at ward no. 36 in Kharadi locality in Nalanda's town of Biharsharif. The matter was reported to the police on Wednesday night.
A police team led by Deputy Superintendent of Police Mohammad Saifur Rahman reached the house and seized the flag from the family members.
Haq, the owner, pleaded ignorance over the incident and was quoted by India Today as saying that anti-social elements were behind the hoisting of the flag. A woman has been arrested in connection with the case, while further investigation is underway.
"We are investigating the matter now. Action in the case will take place soon," DSP Saifur Rehman said.
"We are hoisting this flag on the occasion of Muharram for past five years," Shabana Anwar, Haque's daughter, was quoted by Press Trust of India as saying.
Jitan Ram Manjhi, former chief minister of Bihar, lashed out at CM Nitish Kumar over the incident. "Rather than going across the country, Nitish should first look into his house where anti-national activities are taking place," Manjhi said.
CP Thakur, senior BJP leader, also hit out at Kumar demanding strict action against the perpetrator.
Danish Rizwan, spokesperson of the Hindustani Awam Morcha (HAM) -- an ally of the BJP -- was quoted by PTI as saying: "Efforts are on to turn Bihar into Jammu and Kashmir. The centre should intervene immediately to stop such anti-national activities in Bihar."
The BJP and the Akhil Bharatiya Vidyarthi Parishad (ABVP) have burnt Pakistani flags in several areas of the state since a week following the pro-Pakistan slogans that were raised during a rally supporting Islamic preacher Zakir Naik and Asaduddin Owaisi.
Mohammad Taufiq, member of the Muslim organisation Popular Front of India that organised the rally, was arrested by the police.